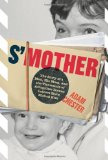 Do you or does anyone you know have a mom who can only be described as little bit wacky? (Hi, Mom!) I'll even admit that I already do fall into this category, and the truth of the matter is it'll probably only get worse as my children ease into their own adult lives. But, Adam Chester will still have us all beat, and he has the letters, postcards and notes to prove it. S'Mother: The Story of a Man, His Mom, and the Thousands of Altogether Insane Letters She's Mailed Him is the hybrid memoir/ humor book Chester has written compiling the decades worth of evidence.
I started out wondering if Chester was perhaps being a little too rough on his mom as he began to share his story… were the jokes maybe a bit much? Then he laid out the first few letters, ones that his mother sent him shortly after he left home for college, and I began to giggle. An out-of-the-blue postcard warning him that if he ever visits San Francisco to be sure to pack his winter coat started it all, and Chester then kept the vast majority of letters and postcards his mom sent him over the course of about thirty years, which really piled up as she put pen to paper several times each week. Here he catalogs some of them in the context of a memoir of his life from his college days through his marriage and becoming a parent.
Some of the letters are lightheartedly funny, motherly reminders like the winter coat one or the random advice to dry his dishes before putting them away, that elicit a chuckle because maybe we can see ourselves thinking the same things even if we wouldn't go so far as sending those thoughts to our children in written form. However, some of the letters struck me as more difficult to giggle about, such as the frequent updates about her will and insurance policies or the notes repeatedly warning Chester to avoid certain family members. Maybe it's the mother in me, but I began to worry a bit for Mrs. Chester's health and well-being.
Clearly, Adam Chester's mom has some attachment and boundary issues in her relationship with her son, and seeing as her husband died unexpectedly and she raised her young son on her own, there's much to be said for the reasons behind her "s'mothering" habits. But, that's a topic for a different book, and this one sticks closer to the "let's laugh about my wacky mom" vein instead. I had to stop myself from thinking too hard about the deeper meanings behind some of these notes and letters in order to enjoy myself at times, but I have to admit that there were numerous passages of the book that I insisted on reading aloud to my husband just so he could share in the "can you believe this?" laughs.
If you want a little sample of the wackiness, check out the book trailer for S'Mother: The Story of a Man, His Mom, and the Thousands of Altogether Insane Letters She's Mailed Him:
Dawn enjoys putting pen to paper herself (or at least fingers to keyboard), so she may have to carefully monitor what she sends to her own children in the years to come. For now, she enjoys blogging about their wackiness at my thoughts exactly.