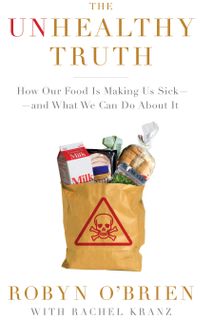 I was intrigued when I heard of the book The Unhealthy Truth
. The premise was interesting, plus I live in Oregon where eating "green" is the rule, not the exception. I married into a vegetarian family (my mother-in-law was vegan) and when I first moved to the state (from Texas – where good food is fried or barbecued!) I lived with some close friends of mine — also vegans. I figured the information that was in The Unhealthy Truth
would not really come as a surprise, but more of a reminder.
(As an aside, as I was reading this book, written by Robyn O'Brien, (founder of AllergyKids), I couldn't help but notice the similarities between her writing style and Janice's from 5 Minutes for Mom. The way that they write is extremely alike!)
Robyn O'Brien herself is quite passionate when it comes to what we are eating and what we are feeding our children. She is not a scientist or a physician. She is just a mom who has done a lot of online (and otherwise) research and wants to share her findings with other moms so that they will be better equipped to make wise eating choices for their children.
In Robin's opinion, if you know the facts of the matter, you will grocery shop with ingredients in mind. It will be harder for you to throw chicken nuggets and macaroni and cheese into the shopping cart if you knew about how our soy is contaminated and you would avoid food dyes if you knew how it can affect your children in both mood and behavior. Now, I do happen to agree with her fact findings and I think she makes good sense. I think it's hard to hear her message to some degree though because she's SO passionate about her beliefs and opinions that it feels as if there is very little room to breathe apart from the emotions she feels surrounding food choices. (She is very, very emotional passionate about good food!). Again, I agree with the questions she poses about food safety and I think she's right on when it comes to the cry and demand for change in food production. I think that we should be eliminating pesticides and growth hormones and food dyes. I think those things do have an effect on our bodies and it remains to be seen exactly what those effects are. It's true that cancer is on the rise, as well as ADD and AHDD and food allergies.
Food allergies, by the way, are what got O'Brien started on her quest for pure foods. Her daughter suffered a nasty allergic reaction to eggs. O'Brien began learning about the food industry in her quest to learn more about her daughter's allergies and how she could help take care of them, in order to avoid unnecessary bodily harm to her daughter. In short, she was a mommy on a mission and I think it's commendable that she's worked so hard for her family's health and safety. That's really her bottom line — keeping her family safe — and that's a good bottom line to fall back on!
In all of this, she does acknowledge that completing changing one's diet and going the "health food/organic" route does put some stress on the budget. She encourages her readers to make slow changes and she offers some handy tips on how you might do that, at a rate that will keep you from losing your sanity and depleting whatever remains of your savings account in this rough economy! She is practical and she is thorough. My one and only hesitation in embracing the whole message is the amount of emotion that is involved in it. Emotions and feelings aside, this is a valuable book, as written from mom to mom. The Unhealthy Truth: How Our Food Is Making Us Sick – And What We Can Do About It
expresses concerns and questions about the way our food is produced and causes the reader to think about exactly what it is that they are feeding to their family. No objections whatsoever with the encouragement this book offers. It's certainly an interesting and intriguing read and piqued my curiosity accordingly.
You can learn more about the book, and Robyn O'Brien's mission, by visiting her website.
Carrie comes by her book obsession honestly, having descended from a long line of bibliophiles. She blogs about books regularly at Reading to Know.