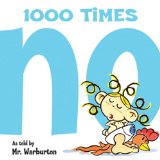 As a mom to three angelic children ranging from toddlerhood to pre-adolescence, I'm perfectly accustomed to stating things such as, "It's clean up time," or "It's time to leave now," and being met with a chorus of, "Okay, Mom!"
Yeah, right.
Find out the reality by reading the rest of the review at 5 Minutes for Mom. You can also enter to win your own copy by leaving a comment over there.
Dawn lives in Maryland, but she's pretty sure that her children's protests can be heard at least as far west as Kansas. Her chronicles of parenthood can be found at my thoughts exactly.