One of my favorite books as a child was Little House on the Prairie. Packing everything into a wagon and heading west seemed like a great adventure. Under the Distant Sky recounts the harsh reality that I never saw as a child – moving west in the 1800s was dangerous.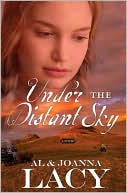 In this story, authors Al and Joanna Lacy introduce us to Hannah Cooper, the heroine of the 8-book series. Hannah and her husband, Solomon, own the general store in Independence, Missouri. Sol, like many men in that day, has caught the fever to head out west. Hannah is unsure at first, but becomes convinced that the move is part of God's plan for their family.
Hannah leaves behind her parents and many of her treasured belongings to forge this new life that she and Solomon dream about. Together with their four children, they join a wagon train heading toward Fort Bridger, Wyoming. The journey proves more difficult than expected, and the family suffers many trials and losses on the way. Through it all, Hannah perseveres because (as Solomon tells her), "Out there, Hannah, under the distant sky, is our new home and our new life."
Melissa has been captivated by books for as long as she can remember. She resides in Virginia and blogs at Breath of Life.