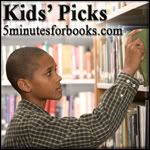 Is it July already? My daughter was in school through the third week of June, and then we left for a very long journey right before July 4th and just returned. So, while that is definitely a summertime activity, it hasn't exactly felt like the lazy hazy days of summer.
What about your kids? Have they been reading up a storm? Have you been enjoying a book together as a family? Have they tried to get away from anything vaguely academic, including turning the pages of a novel?
Tell us all about it.
Write a post on your own blog telling us what your kids could recommend this month, then leave a comment linking directly to your post.
If you don't have a blog, or don't write up a full post, please leave a comment telling us about it.
Be sure to leave your children's ages as well. I know that I love hearing about what other little bookworms are enjoying!