I have a 2 1/2 year old that I'm anxious to have learning how to read. At the same time, never fear!, I also know that it's futile to push him into learning how to read. He has to go at his own pace. Mostly, he just has to be INTERESTED enough to learn. So day after day after day I sit and read with him. Recently, I've started running my fingers along with the words and he has made the connection that I'm reading the words off the page. He'll point to things with words, any words, and asks me, "What dat say, Mommy?" Most of the time I oblige, unless of course he's pointing to tabloid magazines in the checkout lane!
A few weeks ago I asked him if he wanted to learn a letter. He gave me a fairly enthusiastic response so I drew an A on a piece of paper and explained that there are "Mommy A's and Baby a's" (which is a concept he can certainly grasp hold of!). We pulled out our copy of the Berenstains' A Book
and he proceeded to identify mommy and baby A's all over the place. The next day I offered to show him a B and we learned to identify B's (and, of course, read The Berenstains' B Book
. Progress! We're currently on the letter E and he points letters out to me all over town. (The drawback to learning letters, I've discovered, is that it takes F-O-R-E-V-E-R to read through a book because he wants to identify every letter possible! See? There's always something to complain about.)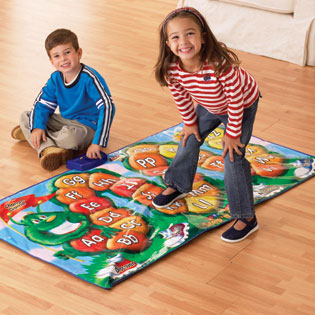 So we look for the positives. I was looking for some alphabet games to play when I came across Learning Resources Alpha-Bug Step'n'Spell. It is a game pad you step on to learn to a.) identify letters b.) learn the sounds letters make and c.) learn how to spell. Again, I repeat (as a mother to a 2 1/2 year old!) — it's A GAME THAT YOU STEP ON! How cool is that?! I'd let you ask the two year old but he's busy dancing around the mat stepping on "a red vowel" and laughing at the caterpillar who is "wow-ing" him on as he identifies a-e-i-o and u!
So how does it work, really? Well, the game is marketed for ages 4 through 7 but my son is two and we're having a great time with it. It's true he can't play it alone but standing nearby to offer some prompting and help isn't bothering me at all. Level 1 offers the chance to step on a letter and hear the sound that it makes. That's exactly where we're at so that's the game we've spent the most time on. We played a round of the spelling level 1. In that game, it tells you to "Spell the word 'sit.' Find the letter 's.' Find the letter 'i.' And so on and so forth. It prompts you to find the letter and then affirms that you've spelled the word correctly. It is pretty basic but above where my son is at so I'm glad to know that we can use it now and it is also something that we can grow into.
You know, before he was born I said we wouldn't use electronic gadgets and gizmos to learn how to read (or to do anything else for that matter) but there's something gloriously fun about stepping on a giant caterpillar and singing the alphabet song at the top of your lungs – WITH mommy, mind you! – for fun. If a game can make learning fun – and if my son is actually learning then I'm pro-electronic game. In this case, I feel pretty happy in 'plugging' the Alpha-Bug Step-n-Spell because my son is learning to identify letters and the sounds they make as a result of it. (He has since been caught walking around the house repeating, "A says A and ah!" I smile.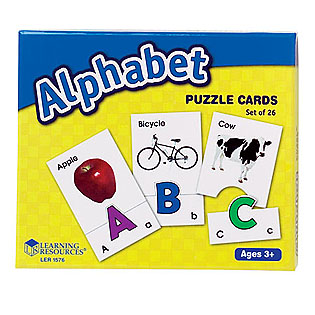 Another great learning tool from Learning Resources is their Alphabet Puzzle Cards. We've used them as they were intended – as puzzle matching cards, as well as a "Go Fish!" game. (That was a big hit.)
Sure, we have a long ways to go in the reading department but we all have to start someplace — one letter at a time. It's exciting to see "the wheels turning" in my son's mind as he is connecting dots and identifying letters and sounds. It's a great beginning to what I hope will be a wonderful journey for him! I know the journey is fun for me and if I can pass just a little of my excitement on to him, I'll consider it a great success!
I know you moms out there care about the resources that you provide for your children. You want to make sure it's top quality – and USEFUL! – "stuff." Learning Resources really do provide some excellent learning materials, aside from the two mentioned above (which are pretty cool). I've been familiar with their company for quite some time and I'm glad to finally be moving into a stage where I can really engage with my son with some of their materials. It's just FUN. You can learn more about them by visiting the Learning Resource website. They have a special site for parents with more information about these and other products. Take a minute to check them out!

And HAPPY READING – in whatever stage that may find you in!
Carrie comes by her book obsession honestly, having descended from a long line of bibliophiles. She blogs about books regularly at Reading to Know.