The following three books from August House Publishers really makes you want to throw a party and make sure your salsa is spicy hot and ready to go! Fiesta!
by Sherry Shahan is exactly what the subtitle says that it is – a celebration of Latino Festivals. This recent publication is bright and peppy! Each page spread covers the celebrations and festivals in one calendar month. Starting in January we learn about Fiesta de San Antonio Abad which happens on January 17th. It is the day of St. Anthony and on this day, children in small villages can be found parading their pets to the church to be blessed. Some of the animals may even be dressed up which I'm sure is tons of fun to see! There is a little rhyme on each page and the months are named both in English and Spanish. Children can learn about familiar celebrations, such as Cindo de Mayo, to some that are lesser known, like Dia de Los Santos Inocents. (Know what that one is?) The illustrations by Paula Barragan are bold and colorful. It has a very folksy feel to it and is designed so that the eyes have to travel around the page as they attempt to take it all in.

In Spicy Hot Colors
, the above author and illustrator pair up again in this book that is a Nappa Gold Winner. Again, children are given the primary word (in this case, colors) in both English and Spanish. This story is told in a kind of poetic rhyme. For example, for the color red/rojo we read:
"Read as chili sauce
Drip-drop
Spicy hot
Red as firecrackers
Snap! Bang!
Bebop Pop!"
The illustrations in this book are not as complex but are more straightforward, typically focusing on one item that displays the color in question.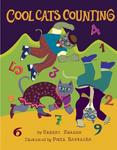 Cool Cats Counting
is lots of fun and is another offering from the Shahan/Barragan team. As you might have surmised from the title, this book deals with counting. There is una chiva (one goat), dos perros (two dogs), tres gansos (three geese), etc., etc. The illustrations in this book are simplified once again, only focusing on the animals and quantities in focus. I think my favorite page spread in this particular book is of the seven rabbits who "jump-and-jive, slappin' high-five. Zippety-do-rah!" They just look so festive. The page looks like a holiday of sorts. Either that or a trip to Disneyland.
These books are very unique and have their own flavor to them which quite sets them apart from your "regular" children's book (if there is such a thing as a "regular" book!). Shahan and Barragan are paired well in verse and image and have created a fun reading cultural experience. For something a little out of your ordinary, you might want to check these out!
Carrie comes by her book obsession honestly, having descended from a long line of bibliophiles. She blogs about books regularly at Reading to Know.