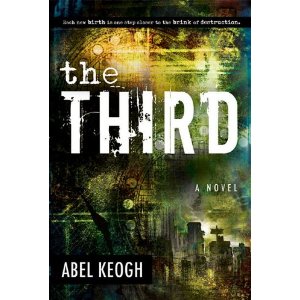 The Third
, a post-apocalyptic novel set 50 years in the future, imagines a world in which the most extreme environmentalists have won and turned everything into a harsh, drab, joyless totalitarian existence. It's part George Orwell's 1984 and part an extreme right-winger's worst nightmare come to life.
The story opens with Ransom Lawe, a fundamentally decent man, on his way to work on a hot, crowded tram. A woman with a crying baby is harassed by a sentinel from the Census Bureau, a beefy man who is responsible for arresting women who go over the allotted 2 children allowed per couple. (Interestingly enough, in this world divorce does not seem to be an issue) The man grabs the baby and swings her upside down, nearly braining her against the side of the car, and Ransom gets involved. This seemingly random occurrence sets in motion a trail of events that will impact his life forever.
Meanwhile his wife, Teya, is trying to hide an unplanned third pregnancy. She and Ransom are both burdened by this, wanting to keep the child and trying to figure out a way possible to do this. Teya's sister Mona is in a position to help them, but to do so would jeopardize her career and she's not willing to get involved. It's not until the mother from the tram reappears that a solution becomes possible, albeit a dramatic and difficult one.
Their world is full of hardship: food shortages and rations, potatoes and corn sold on the black market, everyone living in small ugly apartments reminiscent of Soviet-era Russia. The city is walled but Ransom's job takes him outside, where he strips old homes (i.e. homes from our current time) of anything that can be recycled, and marvels at the idea of living in an actual house with an actual yard. He and his partner have to kill a gorgeous old cherry tree because it's not a native species.
The Third
has a gripping plot. My 15 year-old son was quickly hooked, and stayed up late into the night to finish it. I, too, had a hard time putting it down, although every so often I would stop and roll my eyes at what seemed like projected paranoia from our present day. But Ransom and Teya are likable characters and it's easy to relate to them and their plight.
Elizabeth is an omnivorous reader, devouring books of all genres. Her son is a lot pickier. Read more of their interactions, and other things, at her blog Planet Nomad.