I confess that I am not a huge fan of pirates or stories of pirates. My little two year old, on the other hand, delights in singing, "YO HO! YO HO! A PIRATE'S LIFE FOR ME!" as he splashes around in the bathtub, courtesy of Peter Pan and dear ol' Captain Hook.
Since reviewing books here has pushed me to read outside of my comfort zone, I thought I'd look into some pirate stories. Thomas Nelson has published a series of pirate books by author Wayne Thomas Batson. Earmarked for "young adults" – this book has cover art that is appealing to all ages, including fun-loving two year olds. The front cover accurately sets the mood for the read. Furthermore, Batson does such a good job with the dialogue that I had pirate songs playing in my head the whole time I was reading. (I suspect that Batson talks a mean pirate himself on Talk Like a Pirate Day.)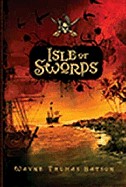 The first book (in what I believe is to be a triology), Isle of Swords
, gets the heart rate up in no time. Almost instantly we are introduced to a mystery in the form of a young boy who wakes up on an island and doesn't know who he is and where he came from. It is suspected that he is a pirate, although no one can say for sure. Nicknamed "Cat" he spends a good deal of time risking life and life trying to discover who he is. The only person to identify him early on is a cold blooded pirate who goes by the name of Chevillard (aka "the Butcher"). Chevillard is in cahoots with another well-known, and quite vicious, pirate by the name of Bartholomew Thorne. The high seas are positively loaded with pirates, including a "hero" among them named Captain Declan Ross. Ross, himself a pirate, has a daughter, Anne, who also plays a pivitol role in the story by being high spirited and danger-lovin' in her own right. Between those characters, a cloister of monks who are hiding an age-old secret of treasure and who take everyone on a wild adventure to the treasure, you are in for a real pirate-y treat.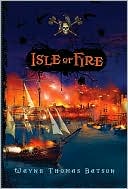 Isle of Fire
is the second book in the series and the suspense is no less. Cat's memory has slowly returned and his now double-life is creating some interesting decisions for him. There are some new characters, less treasure, more storms on the high seas and basic pirate intrigue. I was looking up the Amazon review for this particular book and noted that the author himself had left a comment on Isle of Fire. He notes, concerning this particular story:
"You'll also meet the world's first pirates and a villain so cold he makes Bartholomew Thorne look like a Care Bear."
The fun just continues.
If you like stories of pirates and treasure, you will like these books. If you enjoy good story-telling, you will also like this book. My one strong caution is that the books are rather bloody. Nothing is overtly graphic but the picture is painted well enough that I could picture the limbs falling off and the stabbings. They ARE pirates and they sure do act like it! Make sure your "young adult" reader can handle things like that before handing them over. Part of the reason that this issue causes me concern is precisely because Batson is such a remarkable story teller that you just get sucked into his stories and start to live them yourself. If violence is a problem for you or your young reader, then you'll want to be a little cautious. Otherwise, Yo Ho Ho, and enjoy!
Carrie comes by her book obsession honestly, having descended from a long line of bibliophiles. She blogs about books regularly at Reading to Know.