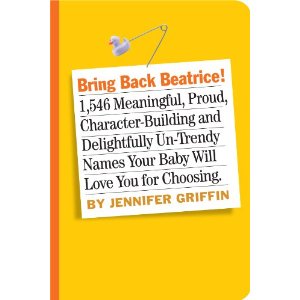 Recently a friend asked me what my name meant, and she couldn't believe I didn't know. I didn't dare tell her that I didn't know what my kids' names meant either. I didn't really look at baby books when I was thinking of names for my kids.
My husband was ultra-sensitive to "weird" names, and my chief goal was avoiding something super-trendy and popular (because after all what I DO know about my name is that it epitomizes trendy and popular).
Bring Back Beatrice! by Jennifer Griffin is a guide to "1,108 Baby Names with Meaning, Character, and a Little Bit of Attitude."
If you are in the market for a baby-naming book, or know someone who is, or if you like the popular culture aspect of names and meanings and trends, I invite you to check out my full review of Bring Back Beatrice! over at the Kirkus Reviews Blog.
That's right — did you get that? The 5 Minutes for Books team will be posting Lifestyle reviews every Friday at the newly ramped up Kirkus Reviews Blog. That means that we'll be bringing you the best of parenting, marriage, travel, home, family, and personal finance books (and whatever else comes across our desks in that hard-to-pin-down category).
We are very proud of this affiliation, and I'm very proud of this review of Bring Back Beatrice! in which I give the strong points of this particular book as well as sharing some personal thoughts and insights as well as I thought about my name, my children's names, and even my grandparents' names (which might be prime for a comeback!).
You can comment on that post via a Facebook plug-in, so I hope that you'll show us some support by doing so!
We join esteemed book bloggers Seven Impossible Things for Breakfast (children's reviews) and Young Adult reviews from Bookshelves of Doom and theYaYaYa's, and Romance reviews from Smart Bitches, Trashy Books, in addition to other regular contributors offering reviews in other genres such as Mystery, Sci-Fi, Gardening and more.
So before you forget, please go read my full review of Bring Back Beatrice! over at the Kirkus Reviews Blog.
Jennifer Donovan has come to terms with her first name and sort of likes the identification it gives her with her generation. She loves reading, loves reviewing books, and is thrilled with this new reviewing gig. She also blogs at Snapshot.