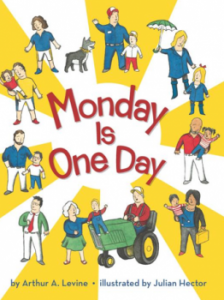 Over the almost eleven years that I've been a parent, I've had three different experiences- a full-time job outside of the home, a school year's worth of a part-time schedule, and for the last four years, I've been a "stay-at-home" mom. My own working situation is poised to change once again in the fall, so I've been giving a lot of thought recently to the transition back to a working schedule. One of the toughest things for me to contemplate is not being with my two younger kids during the day, as I've been accustomed to. With that in mind, the picture book powers-that-be sent me Arthur Levine's new release, Monday is One Day.
An ode from parent to child, Monday is One Day acknowledges the feelings parents may have about being apart from their children while they work, but emphasizes the joys that take place when they come back together again. Julian Hector's bright and cheerful illustrations depict six diverse families as they go about their morning routines, from one boy waking his dad up by jumping on his bed to a set of briefcase-toting parents hugging their daughter goodbye at the bus stop, followed by a breakdown of special ways parents and children connect on each day of the week.
Whether it's through physical contact like snuggles or "raspberries on the nose" (one of my own kids' favorites), or with a shared activity such as a family jog, the images and text show families spending time together and sharing their love. The extra-special weekend activities are an added bonus, and the final illustrations bring the entire book's cast of characters together.
The diversity in the illustrations doesn't just apply to the characters' races, but the families shown also go beyond the simple Mom + Dad + Child(ren) format, giving a more realistic depiction of families today. In addition, the families hail from different geographic areas too, living in cities, suburbs and rural settings. When it comes to children's literature, the intent of diversity is to make the book feel applicable to all children, and I believe Monday is One Day does so in a natural manner, without calling any specific attention to the point.
We have three copies of this picture book for giveaway! Please leave a comment here to be entered, U.S. addresses only. We'll announce our winners on 5/11.
This giveaway is now closed. Thank you to all who entered.
Dawn and her kids may be reading this book together again and again come the fall. Her transition back to the world of the wage-earners will surely play a big part on her blog, my thoughts exactly.
Check out our current giveaways. Subscribe to our feed. Follow us @5M4B on Twitter or on Facebook or YouTube.