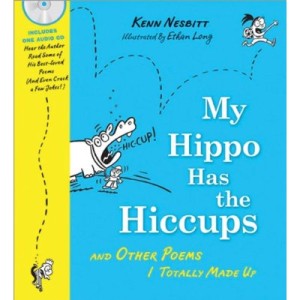 Each month when you get those wonderful newspaper-y flyers from your child's teacher, you might notice some sort of special focus. I was happy, and not at all surprised, to see that the April focus is National Poetry month.
I looked over the SeeSaw selections online (Did you know you can now place an order online through Scholastic Book Clubs**, still through the classroom? If your teacher hasn't set up an online account, ask her to look into it) and found a title that I knew my first-grader Kyle and I would love: Kenn Nesbitt's My Hippo Has the Hiccups and Other Poems I Totally Made Up.
One thing I love about ordering through Scholastic is they offer special book club versions that are less expensive. For example, this title is generally only available in hardcover, but their paperback version costs several dollars less. To be able to order a couple of books for under $4 each and to benefit the classroom in this age of budget cuts is an opportunity I'm ashamed I haven't taken better advantage of, so when I got Kyle's classroom order I did just that!
We enjoyed Kenn Nesbitt's The Tighty Whitey Spider last April, so it was only appropriate to check out his other collection of poems, and My Hippo Has Hiccups has not disappointed in the least.
I love reading poetry aloud to my kids for many reasons:
It's quick and easy. I can read one poem in 90 seconds or take 15 minutes and read several.
The fact that it's poetry screams for it to be heard aloud, rather than read.
When a child reads a poem aloud, it's easy for them to predict because of internal clues like rhyme. I love hearing that sweet 6-year-old voice sharing a poem with me!
And if it's Kenn Nesbitt, in addition to sharing sweet mother/child time, we are likely to share a laugh or a snort as well.
This collection has poems about things that kids can relate to (of course with a silly spin), such as big sisters, boredom, pets (the hippo in question as well as another unlikely pet — a banana — and a whole menagerie that drives his sister crazy), school, collections, and even one noting "My Nostril Smells Awesome" — enough said.
This edition includes a CD where Kenn Nesbitt reads many of the poems aloud and also encourages kids to write their own poems. This CD has been in the car, because my son is demanding it any time we go anywhere. He brings along his copy of the book and follows along with the CD.
If you're looking for some silly poems to read in honor of National Poetry Month, I highly recommend checking out Kenn Nesbitt's My Hippo has the Hiccups.
**5 Minutes for Books is pleased to be partnering with Scholastic to review books available in their bookclubs each month. Other than receiving a couple of books that we select, we have not been compensated in any way. As always our opinions are our own.
Jennifer Donovan can make things rhyme.
Although she usually doesn't make time
to craft her byline in a poetic way
it's an exception she's gladly making today.
She manages 5 Minutes for Books and blogs at Snapshot.