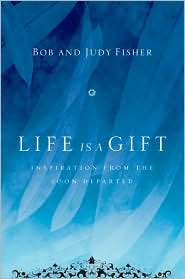 Around this time last year, I met my son's kindergarten teacher for the first time. As soon as I met her, my concerns about sending my baby to school eased. His teacher was loving, kind, and experienced (she had served in education for 27 years). Unfortunately, at the end of January, this wonderful lady discovered that she had cancer throughout her body. Against her wishes, she quit teaching immediately.
By July, this special lady was spending her final days in a hospice center, surrounded by the ones she loved the most. As you can imagine, she was constantly in my thoughts and prayers. During this time, Jennifer, the managing editor of 5 Minutes for Books, sent out a list of titles available for review. The book that immediately caught my eye was Life Is a Gift: Inspiration from the Soon Departed
. I couldn't believe the timing, and I requested a copy.
Imagine my surprise when I received the book and discovered that the authors had interviewed hospice patients who lived and died in the same center as our beloved teacher. I felt that by reading their stories, I had the opportunity to honor her final days and to learn from others with experiences much like hers.
In the book, Bob and Judy Fisher share anecdotes related to them by 104 individuals living with hospice care. The ages and life experiences of the individuals varied widely. The topic initially sounds depressing; after all, none of the participants are living. This book, however, was one of the most inspiring books I have read in some time. The chapters cover many topics, including finding purpose, loving people, reconciliation, regrets, and hope; and each section encouraged self-reflection. As the authors state in the beginning of the book, "When we view life as if it were an inexhaustible resource, we tend to waste it." I certainly don't want to waste my life, and this book helped me to examine my own choices and behaviors. I highly recommend that you read it as well.
At the end of my son's kindergarten year, we were able to take all the children from my son's class to their teacher's home for a visit. At one point, she invited all 18 kids onto a bed with her so they could look at the school yearbook together. It was a rainy day, and the kids shoes were muddy. Immediately, most of the moms in the room jumped in to keep the kids from getting mud all over the bedding. Before we could intervene too much, our special teacher said, "Nevermind. Let them get up here." I realized in that moment that the little things didn't matter to her anymore. She didn't care about dirt. She only wanted to be surrounded by those precious children. At her funeral, her brother spoke about how much this last visit with the kids meant to her. It was a special, special day for all of us.
Life Is a Gift
by Bob and Judy Fisher is filled with reminders just like this. Remember what is important. Surround yourself with loved ones. Do not leave words unspoken or deeds undone. Life is truly a gift.
Lauren is a wife, a mother of two, and an avid reader. She prays that she will always live her life to the fullest with those she loves beside her. Lauren blogs at Baseballs and Bows.