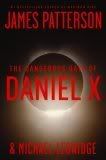 I was looking forward to reading this book when I heard about why James Patterson wrote it. As the father of a ten-year-old son, he wanted to help combat the problem of boys who don't like to read. According to the Young Adult Library Services, the main reason that they don't read is because "it's boring."
If you've ever read one of James Patterson's books, one thing that they are not is boring. I was curious to see how his foray into tween/teen literature would be. The Dangerous Days of Daniel X is the first in a new series which is being targeted to readers of all ages. Daniel X is an alien hunter who is trying to rid the earth of the aliens who are killing and otherwise endangering people all over the earth. Specifically, he wants to get rid of the powerful alien responsible for killing his parents 10 years ago.
If you like science fiction, this book will probably deliver. I expect mystery/thrillers from James Patterson, but I think that the alien angle will appeal to many boys and girls alike, and it is delivered with the characteristic short chapters that result in a page-turning read. It also has the "no parents" element that always appeals to children. Daniel misses his parents and isn't happy to be on his own, but there is still the cool factor of being a teen out on your own, although in his case, the fact that his life is constantly threatened by aliens might insure that they aren't yearning too hard to switch places with him.
Another cool thing about this book is that Daniel enjoys reading (even though his super-high intelligence and his unusual living experience have placed him out of the drudgery of school). He mentions books that he's reading by name (which might cause a curious reader to go and read them next). None of this is heavy-handed. It's mentioned in the same way that his love for gourmet cooking is mentioned as well (which could inspire young adults to whip up something special for dinner).
Daniel is a likeable hero, and he's a pretty worthy role-model as well. I'm not sure that I would recommend this for kids as young as ten. It has more of a teen vibe to it to me, since Daniel is a teen and has normal teen thoughts (including romantic thoughts about girls), and some of the encounters with the aliens are a little intense and graphic. However, I didn't find anything objectionable in it, so if your tween or young teen is looking for something exciting to read and isn't bothered by a little romance and a some mildly graphic violence, I recommend it.
For that matter, if you enjoy a sci-fi thriller and want to indulge in one without harsh language or violence, you might want to read The Dangerous Days of Daniel X yourself (and then decide if you want to pass it on to a youngster in your life). That's one reason that I enjoy these types of books written for youth, but also targeting adults. It's easy to read (i.e. if your brain can't take in deep literary themes in this stage of life, this kind of book often fits the bill), they are usually devoid of content as far as language and sex that you might choose to avoid (usually — not always, so don't assume that just because it's for young adults that it doesn't have these themes), and they are a bit shorter (sometimes), so you can achieve success by completing a book.
Managing Editor Jennifer Donovan is a contributing editor at 5 Minutes for Mom. She has been blogging at Snapshot for over two years. You'll almost always find her holding either a book, a fork, a child's hand, her laptop, or some combination therein.