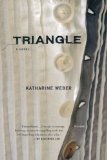 The Triangle Waist Company factory fire, which happened 100 years ago on March 25, 1911, in New York city, was seminal and devastating. At least 146 people were killed in the first few minutes, many of them jumping to their deaths to escape the all-engulfing flames. Because the door was kept locked to prevent the girls (most workers were teens) from stealing bits of fabric, the death toll was much higher than it should have been. Additionally, the death toll was increased by an inadequate fire escape, which collapsed and killed several, and the fact that the firefighters' ladders didn't reach high enough. In fact, it is thanks to this event that many of our current safety standards were passed.
Triangle: A Novel
opens with an eyewitness account of the fire, as told by one of the few survivors. I was immediately pulled in to this woman's memories, and I found it initially jarring when the book switched to modern day characters and settings. I hadn't read the back cover, and assumed this was a historical novel. But in fact, this novel is not exactly about the fire. It's half supposed transcripts and first person memories of Esther Gottesfeld, at 106 the last survivor of the event, and half the story of her grand-daughter Rebecca and her partner George, a composer who writes the music of DNA sequences, or amino acids, or mathematical formulas. Rebecca, raised by her grandmother, is devastated by her death and irritated by the zealous feminist historian Ruth Zion, who interviewed her grandmother on several occasions and is determined to uncover a secret she's certain Esther has taken with her to the grave. Ruth's character serves as a catalyst for Rebecca and George to examine the family's past a little more closely. In the meantime, the reader is presented with Esther's version of the fire several times over. What could these tiny discrepancies mean?
Running alongside this, and forming a triangle to the woman and her grand-daughter, is the work of George, Rebecca's longterm partner and eventual husband. His compositions and the way he writes take up a good portion of the book. He is fascinated by genetics as he faces the fact that he is at high risk of developing Huntington's Disease, a degenerative and neurological disease that affected, and eventually killed, his mother and grandfather. Just as Rebecca's family is shaped by the fire that killed her great-aunt and forever changed her grandmother, George also deals with issues passed on from generation to generation.
Ultimately, Triangle: A Novel
is a novel about memory and history. How do our past and our fluid memories solidify through telling and retelling? What are the choices we make in what to tell and how to tell it, and how is history written and changed as a result of these choices? How do we honour those in our past through how we tell their stories? And, most importantly, how do events shape our lives and the lives of our families and descendents? It's a fascinating look at both a particular moment in time and a life and family irreparably changed by that moments. On top of that, it's an enjoyable read.
In commemoration with the 100 year anniversary, HBO has produced Triangle: Remembering the Fire
, a documentary that looks at the events leading up to the fire as well as the effects of the fire on the survivors, the owners, and those today who survive their jobs thanks to safety measures passed as a direct result.
Elizabeth is intrigued by how history shapes our lives today, and how our personal stories are changed in the telling of them. Read more of her thoughts at her blog Planet Nomad.