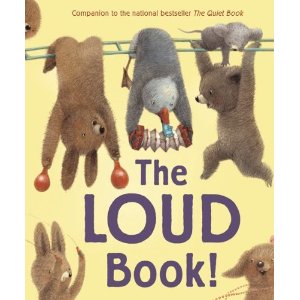 "There are lots of louds." With these five words, young readers begin an exploration into a wide variety of different ways we can be loud. Don't let the simple text of Deborah Underwood's The Loud Book fool you, there is much here to think about.
As a companion book to last year's The Quiet Book, this newly released picture book pumps up the volume but still retains the very thoughtful and discussion-provoking tone of the first. As the mother to three very noisy kids, I thought I knew all there was to know about being LOUD. But some of these types of loud made even me giggle and think:
"last slurp loud"

"fire truck day at school loud"

"deafening silence loud"
The last one has to be my favorite. Each page features softly-hued illustrations by Renata Liwska that bring the text to life. For that last example, the two animals caught with their hands in the cookie jar (quite literally) are being subjected to the LOUD glare of the mother standing over them, and Liwska's pencil drawing captures it just perfectly.
Last year, I included The Quiet Book in a round-up of Cybils picture book nominees that lend themselves well to snuggly storytimes (follow the link for the review), and even though Underwood's latest raises the volume, I still think this works best when read one-on-one or with a small group of children. Since each page stands on its own, rather than working together to tell one longer story, children and parents can stop and talk together about each example. I know that my own children have greatly enjoyed applying the examples to their own lives, telling stories of "thunderstorms" experiences and "crackling campfires" they remember. We certainly don't have a shortage of LOUD stories to tell!
The Loud Book gets a solid recommendation from this mom, as well as from my own noisy preschoolers.
What was that you said? Dawn often has to ask folks to repeat themselves over the din of her crew. Thankfully, she can be heard loud and clear on her blog, my thoughts exactly.