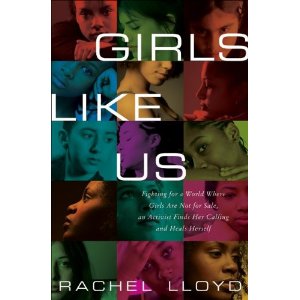 Rachel Lloyd opens her book Girls Like Us: Fighting for a World Where Girls Are Not for Sale, an Activist Finds Her Calling and Heals Herself
with a story of speaking to an 11 year old child who was being sold for sex with older men. The girl proudly fingers a pink glass heart round her neck, a present from her "boyfriend," as she refers to her pimp, who is 29. She loves SpongeBob, Mexican food, Harry Potter and roller coasters; she has dimples and baby fat; and she has been trafficked up and down the East Coast, is marked with scars from the beatings her pimp gave her because she didn't earn enough or talked back. "I want to throw up," writes Lloyd. "I can't seem to find my protective wall, my shut-down switch that ten years of working with sexually exploited children has taught me to internally access."
I am horrified, crying already just reading the prologue. But ultimately, I can find my internal wall. All I have to do is close the book and look around at my quiet suburban house, greet my daughter with a kiss when she gets off the school bus. I am reading this book as a way of recognizing that, for so many girls and women, it's just not that easy.
Lloyd's own story, told throughout the book, is dramatic and moving. As a child, she lives with an alcoholic mother and abusive stepfather; she finds herself at 13 making adult decisions with the maturity and skills of a teenager. By 17, she's become a victim of commercial sexual exploitation. Finally, with the help of a local church, she breaks free from her pimp and is able to start afresh. She founds GEMS (Girls Educational and Mentoring Services) in New York city, an agency that both fights for legal protection for these underage girls and that serves as a safe place for them to be accepted and loved and that gives them the skills to escape.
Girls Like Us: Fighting for a World Where Girls Are Not for Sale, an Activist Finds Her Calling and Heals Herself
combines personal memoir with GEMS history with a scathing indictment of the conditions that lead to these girls being sold, abused, beaten and even killed. Lloyd looks at the conditions in the girls' lives that set them up, the sexism of the courts, the biases of the cops, the pimps, the johns, and the girls themselves. Her readers walk alongside her as she meets various girls trying to get away, girls who come to GEMS either on their own or when ordered by the courts. She is realistic and honest; her stories are incredibly moving. The sections of the books that are more factual, social sciences, still read quickly.
Too many people are ready to be sympathetic to a girl trafficked from Eastern Europe or South America, but quick to judge a poor black or Latina girl trafficked in the neighbourhood she grew up in. "Teen prostitution" is viewed in a different category. Yet how can a girl considered too young to drive, vote, or live on her own be viewed as a willing participant in her own exploitation? Lloyd's book challenges the walls of stereotypes we have built up, and confronts us with the humanity of the girls. It's an eye-opening read, fascinating as a train wreck, but one that will open your heart as well.
Elizabeth hopes she always remembers some of the things she learned from this book. Read more of her thoughts and reflections at her blog Planet Nomad.