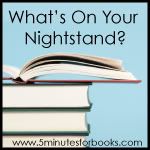 I'm back, baby! A few riveting books, a good reading month overall last month, and finally getting (mostly) unpacked and getting resettled here in Houston has reminded me why I love reading so much.
I know from reading all of your Nightstand posts that a lot of you feel the same bit of encouragement.
So keep it up! Set some goals or gloat about goals accomplished in the last month. Let's hear What's on Your Nightstand!
Check out our current giveaways. Subscribe to our feed. Follow us @5M4B on Twitter.