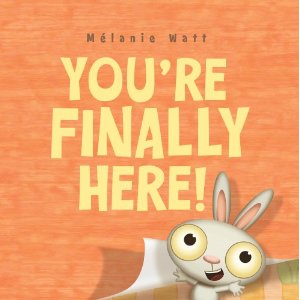 Have you ever wondered what the characters in your favorite books are doing while you're off doing your homework, or watching TV, or surfing the web?
Author Melanie Watt tackles that question in You're Finally Here!
When you open the book, the bunny asks, "Where were you?" He wants to be happy to see you, but he really wants to know what you've been doing all that time, and how he's suffered while you were gone. He makes sure we know how long he's been waiting, how boring it is, how unfair and rude and annoying it is.
As he's giving examples of this, any kid will be able to relate (or laugh at) his examples: as annoying as a toilet paper stuck to your shoe, as unfair as being the last kid picked for the team, as rude as sticking gum under the sofa.
This book will make booklovers and silly kids smile.
I didn't even know that this book was coming out until I got a box of Spring releases from Kids Can Press (They publish it in Canada, with Hyperion having rights in the U.S.). When my 6-year-old son Kyle and I saw Melanie Watt's name on the cover, it was the first book we dug into. We like love Scaredy Squirrel and Chester, and I'm so pleased that You're Finally Here! — a new stand-alone book with a new character and a little bit of the same fun quirky humor — is finally here.

Jennifer Donovan loves it when her 12-year-old daughter and 6-year-old son can both cuddle up and enjoy the same book. Melanie Watt's books generally do the trick. Find out more about Jennifer's family at Snapshot.