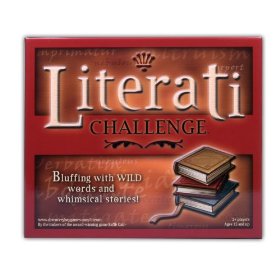 Our game of the day is Literati Challenge, by Discovery Bay Games. I'm generally not a fan of word games — Boggle, Balderdash and the like are a good way to ruin my evening!
But, Literati Challenge piqued my interest (for, among other things, the opportunity to demonstrate proper usage of words like "piqued".) In this game, all the players in a round are assigned a series of
words which they must use in writing a few-sentence-long story. The words are described as "SAT-level", which I'd say is pretty accurate. They're certainly not impossibly difficult, but it helps to play with teenagers or adults on a similar level of language skills.
The players are given less than a minute to write their stories, so it's a big advantage to be able to write quickly. As the five words are revealed, you have to think fast to include as many of them as
possible, scoring points for each word you apply correctly. (And bonuses if you use them all!)
Of course, the caveat is that if you mis-use words in the wrong context, other players can challenge you and you have to defend your knowledge of the word against its proper definition. Last-minute
attempts to use extra-hard words caused much hilarity!
As one who loves to read (as I do) and enjoys a healthy vocabulary, this game was lots of fun. We played it as a family game with a variety of skill levels (ages 13 to fifty-something), and discovered that it takes a lot of creativity — and, at times, bluffing skills — to come out ahead. I'm not a big fan of games as a general rule but games that involve story-telling get a big thumbs up from me!
Carrie comes by her book obsession honestly, having descended from a long line of bibliophiles. She blogs about books regularly at Reading to Know.

We have one copy of Literati Challenge to give away (U.S. addresses only). Leave a comment on this post if you'd like to be eligible to win.
Click on the banner above to enter our other Summer Fun Giveaways. All winners will be announced on June 11.