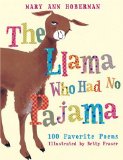 This Wednesday, March 9, is the 2nd Annual World Read Aloud Day, sponsored by LitWorld, an international nonprofit for literacy advocacy and education. LitWorld aims—among other things–to teach 1 million children to read by 2014, and the annual World Read Aloud Day was created to spread and celebrate the joy of reading. Writers, educators, and parents host readings at libraries and bookstores, participate in community events, read to their families and in their children's classroom. The idea is to create a community of readers, advocating for every child's right to literacy and access to books and technology.
This year, I'll be reading again at a local bookstore with two other mother/writers. It's a pajama party/popcorn eating/bedtime story kind of event, and it's really fun. This year, I've chosen to read poetry, which may seem like a dry selection for an upbeat, celebratory kind of event. But it's not. Certainly, there's a lot of insipid, sentimental, bad poetry for kids. You know it: dull, predictable topics; tortured syntax composed only to make the rhythm work; moralizing verse; empty odes to cats or butterflies. It bores you. It bores your child. I say: avoid it at all cost.
But I have fond childhood memories of reading, on random afternoons, long narrative poems like Longfellow's "The Village Blacksmith" or flight-filled lyrics like Stevenson's "The Swing," which is as close to a childhood standard as you can get, or darker, poems, that sort of made me shiver, like Poe's "Annabel Lee." I was compelled as much by the illustrations in my favorite anthology as by the verse, but diving into poetry was a quick fix into another, mysterious world and it captured my imagination.
But poetry is not just for private moments. Poetry is meant to be read out loud—in a community that connects speaker to reader (or listener). You can't fully experience a poem until you hear it spoken and feel the shape of its words in your mouth and the rhythm of its lines in your body. Only then can you discover the cadence of the line leaping along the page, the surprise of a well-placed rhyme, the hum of a beautiful assonance, the tripping pull of alliteration. These are the things you share with a child when you read poetry out loud. When your child hears the story of the poem, captures a vivid image, laughs at a funny word or "gets" the joke of a pun, she hears language in a new way.
Just as we read children chapter books they can't yet read for themselves, exposing them to more complex stories and ideas, reading poetry to children stretches them. Poems like Mary Ann Hoberman's "Rabbit" or "Brother" offer irresistible wordplay; Shel Silvstein is full of ridiculous double meaning; Eugene Field's surreal "Wynken, Blynken, and Nod" can lull your child right to the edge of sleep (in a good way!); and C.K. Williams' "Gas" is a freeverse narrative about, well, that thing your 6-year old son probably can't stop talking about. Trust me, it's funny. You'll be hero for a day or two if you read it to him.
So, this week, in honor of World Read Aloud Day, think about searching out a great poem or two to read alongside the bedtime story. You can even make a party out of it one night: your kids, a friend or two, pajamas, a couple of great books, and big bowl of popcorn. It's as good as a movie any night, but maybe especially on a school night.
After, please come back and let us know how you celebrated and what you read in the comments!
To get you started, here are some of my favorite volumes of poetry for children:
Lisa Catherine Harper is the author of A Double Life, Discovering Motherhood**, which won the 2010 River Teeth Literary Nonfiction Prize and has been called "universal, moving, and relevant." Her writing has appeared in places including Poetry Foundation, Huffington Post, Babble, Literary Mama, and Mama, PhD. She teaches in the MFA program at the University of San Francisco and lives in the San Francisco Bay Area with her husband, and their two children. You can find her online at http://www.LisaCatherineHarper.com.
**Editor's Note: Look for Jennifer's review (with giveaway) of Lisa's fabulous memoir A Double Life at 5 Minutes for Mom on Monday.