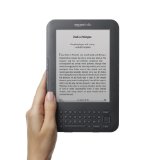 I love my Kindle. I really do.
I don't use it as often as I'd like, because the vast majority of the books I read are sent as Advanced Reader Copies (ARCs) from publishers, so I'm not buying many books, but when I do use it, I am reminded how very much I love it. When I'm in the position to defend or inform — as I was twice in the past week — I am also reminded what I love about it.
Recently a friend asked if anyone had any of the e-readers, because that's what her husband wanted for his birthday. I told her that I had a Kindle and loved it. She said he was leaning towards that one, because you could read it outside in the sun (Good job on the advertising, amazon, since this is the one feature that distinguishes it from the Nook and the ipad). I told her that indeed you could read it outside just as easily as inside.
Last week I was having lunch with some people while I was at the Hidden Valley Ranch Love Your Veggies kickoff event (I'm happy to be on the Mom Panel this year), and as is often the case with interesting, intelligent people, the talk turned to books, which of course made me very happy. Of the 5 people at the table, 3 of us had Kindles, 2 had ipads, and 1 or 2 had Barnes and Noble's Nook (with one guy having all three–ipad and Kindle for him and Nook for his wife!).
The fifth was a die-hard non e-book owner:
I might be old-fashioned, but I just love the feel of a book in my hands.
That's the most common complaint. Those people who are afraid that their love affair with the book just won't be the same. I admit that there are things I love about the printed book that the Kindle doesn't offer — I love the cover, especially when it's truly representative of what's inside, and especially those super-smooth trade paperback covers. I love being able to see what book someone is reading (or for them to see what I'm reading) which might spark conversation, but in general, I love the ease of reading on a Kindle (I wrote some specifics about one-handed, one-finger reading in regards to my Kindle when it was brand new. Please see that post for my complete list).
The latest discovered benefit of having the Kindle is Free Kindle Books. That's right, there are many books available each week that I find by browsing the Top 100 free Kindle books list. Everyone thinks that it's only classics found in the public domain, and while you can always find several Kindle-formatted books by Jane Austen on the list, there are also backlist titles from popular authors that are offered for a week or two at a time — for free! My Kindle has at least 15 books on there, just waiting to be read, that I snatched up when they were offered free. Here's a diverse list including classics, suspense, YA, nonfiction, and women's popular fiction, and at the time I posted, they are all still available free:
Do you have an e-reader? If so, which one? What do you like or not like about e-reading?
When Jennifer Donovan travels alone, a long flight or a layover just adds to her sense of "getaway," since it means more time to read. She blogs at Snapshot.
Check out our current giveaways. Subscribe to our feed. Follow us @5M4B on Twitter.