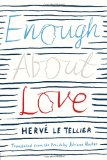 With Valentine's Day still vivid in our memories, a book about love and relationships seems only appropriate, and in Herve Le Tellier's new novel Enough About Love, the backdrop is what many believe to be the most romantic city in the world- Paris, France.
While the excitement of falling in love is incredible anywhere, let alone in Paris, there's a particular downside for these characters… a couple of them are in fact already married. The four main characters forging new relationships are connected to each other, as the man in one couple is the therapist to the woman in the other. While the women don't know each other at all, their history with love and their new experiences certainly share many parallels. For both, the thrills that result from a new romance quickly overshadow the monotony that their long-term marriages now represent, although they may not necessarily follow the same ultimate path.
Upon reading through some reviews about Enough About Love, I realized that others have summed it up best:
"A touching and thought-provoking study of attraction, responsibility, and love." —Publishers Weekly
"Both thoroughly complex and utterly simple…Middle-aged romance has rarely seemed so intriguing." —Booklist
"A wise and witty writer, [Tellier] brings Parisian flair to this tale of romantic entanglement." —BookPage
"Two love triangles (equal one love hexagon?) that reveal much—or at least enough—about love… Le Tellier examines the possibilities of love after 40, and he deals with this issue with patience, understanding and bemusement." —Kirkus Reviews
This tone of this novel neither acts to condone nor condemn extra-marital affairs, but simply presents the story of a cast of characters caught up in various types of love and enchantment. Le Tellier writes each character with a distinct voice, even as their experiences resemble each other. As the author himself states: "Any man—or woman—who wants to hear nothing—or no more—about love should put this book down." For those who are intrigued and ready to explore the topic of love, be sure to pick up Enough About Love.
We have one copy of Herve Le Tellier's Enough About Love to giveaway. Leave a comment here to be entered, U.S. residents only, please. We'll announce the winner on March 2.
This giveaway is now closed.
Check out our current giveaways. Subscribe to our feed. Follow us @5M4B on Twitter.
Middle-age marriage is treating Dawn just fine, thank you very much. Her family's story is told on her blog, my thoughts exactly.