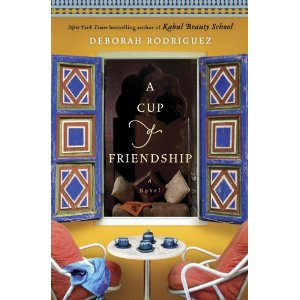 "Women are like tea bags; you never know how strong they are until they're put into hot water."
This novel had me at hello — giving me much to ponder and with which to agree in the Eleanor Roosevelt quote that prefaced the novel.
I had read and enjoyed Deborah Rodriquez's memoir Kabul Beauty School: An American Woman Goes Behind the Veil about her life working with Afghan women, and so I looked forward to reading her first novel. A Cup of Friendship is the story of family-friends – those people who aren't blood relatives but with whom life is shared so deeply and love runs so deep that they become like family.
Sunny owns a coffee shop and brings all the people together: expats like Jack, the man who they've all come to love and depend upon; Candace, a selfish uppity rich woman who may be more than meets the eye; and Isabel an independent British journalist.
But it's not a story about Americans living in Afghanistan, it's a story about Afghanistan – the ties that bind its residents there, the community that draws expats, the richness of their traditions which they love and which also cause so much pain under the regime of the Taliban.
And so, we get to know many Afghan people too: Haliban who owns the building where Sunny lives and works and works in the coffee shop as well; her son Ahmet who clings to the old ways as he waits for change; her secret love, Rashif.
Yazmina brings them all together, when Sunny encounters her in her time of need and brings her to live and work at the coffeehouse. Yazmina is pregnant with her dead husband's baby, but with no proof that the conception was a legitimate one, her life and that of her baby is endangered. Because of her sweet spirit and her need, the little coffeeshop community rallies around her and opens their eyes and hearts to see the injustice that many women face.
A Cup of Friendship deals with serious, sobering issues, but it's not what I would consider a heavy read. There are several romances that unfold, as well as the bonds of friendship, as this little group figures each other out and in turn, get to know what they are each made of as well.
This book has subsequently been published under a different title, The Little Coffee Shop of Kabul.
Jennifer Donovan is blessed to have many friends who hold up quite well in hot water. She writes about other things that get her through her daily life at Snapshot.