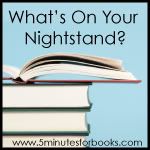 This has been an odd reading season for me. The end of 2010 had me scarfing down Middle Grade novels like they were potato chips, trying to read as many of the Cybils nominees as possible before the other panelists and I decided on the finalists. Then in January I was getting my bearings and unpacking boxes and boxes of books (seriously — SO many boxes of books and a few dishes and photos and whatnot as well).
This month my reading got off to a slow start, but I feel like I'm finally back in the reading groove, and I'm definitely groovin' on that. I was excited to put together my list of books that I hope to read in February (linked to my personal blog below).
I'm also excited to hear what all of you are up to as February gives way to March. Please link up below and be sure to visit around as well.

And as a reminder:
We invite you to join the Cybils KidLit Challenge. Come back March 8 and link up some Cybils reviews or browse around those that people have linked up. We are no longer hosting Children's Classics or Kids' Picks (which I miss!), but we still want to promote the reading of quality children's literature, so we'll provide a forum for those reviews the 2nd Tuesday of each month.
Check out our current giveaways. Subscribe to our feed. Follow us @5M4B on Twitter.