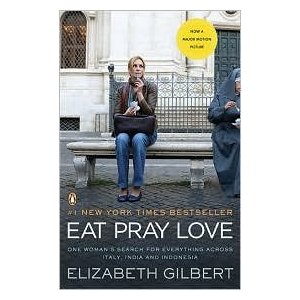 People are opinionated about Elizabeth Gilbert's mega-blockbuster memoir Eat, Pray, Love: One Woman's Search for Everything Across Italy, India and Indonesia. Some people read it and liked it or loved it; others hated it or just didn't get it. It has such reach and influence that some people hated it even without reading it.
The movie has sparked similar debate, both from those who have seen it, and those who flatly refuse to. The casting of Julia Roberts was the beginning of the controversy. Supporters of the work insisted that a mega movie-star could not do justice to this deep, thoughtful story of transformation.
When you read a first-person story, a memoir of one's own lessons from his or her life, you often feel as if you know that person. You either relate to that person or you learn from that person or turn a critical eye on his or her choices. Not only did I read Elizabeth Gilbert's memoir, but I listened to the audiobook — read by her — leaving me feeling as though she was telling me her own story.
I found Julia Roberts to be the perfect combination of who Gilbert wrote herself to be: deeply feeling, charismatic, winsome, spontaneous.
The movie was a little slow at times, and instead of being told chronologically as I remembered the book doing, there were flashbacks which might be confusing, especially if you hadn't read the book. And as always, it lacked the depth that the details of the book brought out. But for those who loved the book, it's a new incarnation of the story (May I recommend that you check out the audiobook as well?). For those who haven't read the book, if you liked the movie, turn to the book for the full story.
I did adhere to my pretty strict rule of only watching a movie 6 months or more after reading a book. It's actually been at least three or four years since I first read it. But even I remember things a bit differently. Scenes were transposed and liberties were taken to help the story flow. That's okay with me. However, there was a part of the book — how Liz got involved in Wayan's story in Bali — that I thought that they were going to leave out, until it briefly popped up. However, this changed storyline did sort of bug me, because I thought that the story in the book was very telling about the Balinese people.
I found that the movie brought out different themes than the ones I picked up in the book. The film seemed to highlight the wonderful place that friendship has in a woman's life. In the book, it was evident that Gilbert valued those in her life, as she was probably esteemed by them, but more as a conduit to how they helped her in her journey.
Her journey was very much a sensual visual experience, so in that respect, watching it as a movie is an ideal way to experience Gilbert's journey through three countries.
In summary, I liked Eat Pray Love the movie. I liked it, but I have to say "Read the book!!"
Jennifer Donovan loves a great story, whether its delivered on the big screen, the weekly small screen, the pages, or via her earbuds. She blogs at Snapshot.