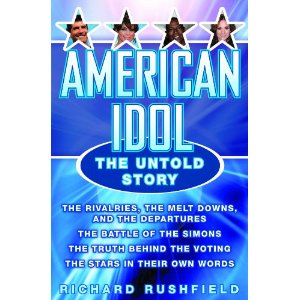 When I was offered a review copy and giveaway of American Idol: The Untold Story by Richard Rushfield. I figured it would be something a little different and that the many many fans of American Idol might be interested. I knew that I could do a quick turnaround by reading a few chapters to get an impression of the content and tone, and we could offer up a giveaway to one of you fans. But that's not what happened. This book completely surprised me. I started reading it, and I couldn't put it down. Seriously.
Amanda and I didn't start watching until season 9, which isn't even really covered in this book. I knew nothing of Paula ("What's up with Paula?"), Sanjaya, Kellie Pickler or THE Kelly who started it all — Kelly Clarkson. But my unfamiliarity with the subject matter didn't dampen my enthusiasm for the book at all. Rushfield, who extensively covered Idol for 3 years for the Los Angeles Times writes with that perfect blend of fact, speculation, and storytelling that not only gives credibility to his words, but makes me want to read more.
I'll admit that I'm somewhat of a reading snob, but if you are interested in American Idol or the reality TV industry, or even like the kind of book that pulls together portraits of a wide cast of contributing characters, I think you'd like this book as much as I did. If you've been a devoted follower since the beginning, or for several of the first eight seasons, you'll definitely enjoy getting to know more about your favorite contestants. You will also find out more about the negotiations between Simon Cowell and the producers, and his decision to leave. A completely current tie-in is the origin and the battle over The X Factor which Cowell produced in England, and for which I've been seeing commercials, learning that it is coming to the U.S.
American Idol: The Untold Story is NOT a tell-all. It's a story about the show, its popularity, and those who made it happen: the producers, the judges and of course the panel themselves.
Content Note: My daughter (12) asked if she could read this book, and I told her "no." I would think that depending on what your middle schooler or high schooler reads, it would probably be fine. There is some language throughout, but what stopped me was allusions to Simon's active love life and some of the activities that got certain contestants disqualified (pictures appearing on websites and the like, if you get my drift).

We have a copy of American Idol: The Untold Story to give away to one of you (U.S. shipping addresses only). Please leave a comment if you'd like to win. We'll announce the winner on February 23.
Check out ALL our current giveaways. Subscribe to our feed. Follow us @5M4B on Twitter.
Jennifer Donovan is pleased that family-friendly TV fare that she can enjoy with her daughter is so popular. She blogs about books, TV, and family at Snapshot.