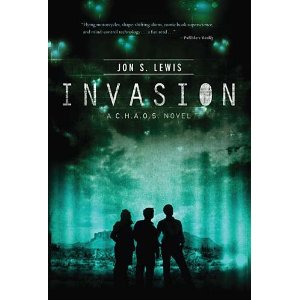 Invasion (A C.H.A.O.S. Novel) by Jon S. Lewis is a new series for those who enjoy thrilling science fiction. To me it felt a bit like Men in Black on the pages with an all-teen cast.
When Colt's parents are killed, it quickly becomes apparent that it wasn't a normal car wreck. The man who hit them was acting strangely, and when Colt starts to look into their death along with friends Danielle and Oz, strange things begin happening to them too.
Colt's family members have all been a part of Central Headquarters Against the Occult and Supernatural (C.H.A.O.S.). It's all pretty secret, and although Colt has been tested to become a part of the organization, his mind has been wiped clean (reminding me once again of the Men in Black "flashy thingie" that did the same thing).
The author J.S. Lewis has written for D.C. comics. The kids in the book are comic book fans, and they even find clues to help them in an old Phantom Flyer comic book series, which turns out to be more factual than they ever would have expected.
It has a fun, whimsical yet intense feel, delivering plenty of excitement and gadgetry and good guys and bad guys. There's no language or mature behavior, even though the characters are teens (except a very very mild romantic storyline). This novel would probably be more appreciated by the 10 – 13 year-old reader than an older young adult.
Invasion is published by Thomas Nelson, an historically Christian publishing house, but if that fact would make you flock to it expecting a Christian storyline, or avoid it for the same reason, think again. There is not any sort of Christian theme in it at all. It's simply an exciting sci-fi/fantasy book set in a realistic high school setting that will appeal to tweens and young teens.
It does not end in a tidy way, and so we have to hang on to read the next installment (January 2012, I believe), but that never bothers my tween at all.
We have a copy of Invasion to give to one of you (U.S. only). Just leave a comment if you'd like to win. We'll announce the winner on February 9.
Check out our current giveaways. Subscribe to our feed. Follow us @5M4B on Twitter.
Jennifer Donovan enjoys both quiet, character-driven novels and fast-paced, way out there sci-fi. She blogs about books, her family, transitions and trials at her blog Snapshot.