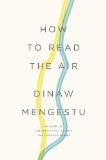 How do you know who you are, if you don't know where you come from? Can the line between truths and lies be just a little blurry? These two questions are at the heart of Dinaw Mengestu's novel How to Read the Air, a force of a story that takes concentration to follow and more than a little bit of skepticism to process.
Jonas Woldemariam, son of Ethiopian immigrants Yosef and Mariam, serves as the novel's narrator, taking the reader for a ride through his and his parents' histories that bounces around in time. We see Mariam, about a year before Jonas was born, trying to figure out how to live in this new country with a husband whom she hardly knows, and we see Yosef making his dangerous departure from the volatile environment of Ethiopia a few years before that. We're privy to Jonas' perspective on his courtship and marriage to Angela, an African-American lawyer who desperately seeks out security and stability in their relationship, right alongside his understanding of Angela's perspective. Many anecdotes are presented, with confidence and detail and emotion, but the question of absolute truth still stands, and for many reasons that are unveiled throughout the book, Jonas' ability to speak the truth becomes questionable.
Truth be told, I had a bit of difficulty getting into this book for the first 80 pages or so, mostly due to my confusion from the non-chronological storytelling style. Having started this immediately on the heels of a book of short stories that frequently addressed an African immigrant experience in the U.S., I instantly felt a different tone in this narrative, focusing more on the emotional depths that are universal to all, regardless of citizenship. The "immigrant experience" typically marked with a feeling of isolation and outsider-status appears to be shared as equally among Yosef and Mariam as with Jonas and Angela. As Jonas wanders through his parents' history, both what he knows to be true and the embellishments that he purposefully creates, he rediscovers more of the deep-seated fears and worries that have been a part of him for as long as he can remember.
Haunting and deeply affecting, How to Read the Air begs to be read a second time for me- like the stories told by Jonas, this one is full of details and emotion that deserve a second look.
Thanks to the publisher, we have a copy of How to Read the Air to give to one of you. Please leave a comment if you'd like to win (U.S. and Canada only). We'll announce the winner on January 26.
This giveaway is now closed. Thanks to everyone who entered.
Novels that explore the human condition and incite emotional response are Dawn's favorite picks. She shares more book love, along with an NPR obsession and a penchant for cute-kid-stories on her blog, my thoughts exactly.