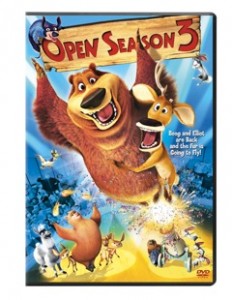 Hello, it's me — once again taking a few liberties with this column, so that I can offer you an animated movie giveaway with a fantastic prize package that also includes some Cloudy with a Chance of Meatballs games and merchandise (and that is a true Books on Screen qualified entry. Check out the link to read my original review and comparison of the book and the movie).
Synopsis:
Boog, Elliot and all their forest friends return with an all-new adventure that is their fastest and furriest yet – this time in a big top circus! When Boog's buddies can't make their annual guys-only getaway, he decides to take a trip by himself. Stumbling across a visiting circus, Boog switches places with a look-alike circus grizzly and takes over his part in the act. But when the circus decides to go back to Russia, it's a race against time for Elliot, McSquizzy, Mr. Weenie and the gang to rescue Boog before it's too late!
Open Season 3 was released on DVD January 25. Want more info? Check out the movie trailer.
One winner (U.S. residents only) will receive an Open Season 3 prize pack consisting of the Open Season 3 DVD, an Alastair plush (aka the llama from the movie), and various prizing from the Cloudy with a Chance of Meatballs movie including a Nintendo DS game, Wii game, PS3 game, toys, recipe booklet, Ice Cream Catch game and more!
Leave a comment if you'd like to win. We'll announce the winner on February 16.
This giveaway is now closed, thanks to all who entered!
Disclosure: I have not seen this movie, nor previewed any of the prizes (which is very rare here on this site). I am simply taking advantage of the offer to extend this awesome prize pack to one of you.
Jennifer Donovan manages 5 Minutes for Books and blogs on Snapshot.
Check out our current giveaways. Subscribe to our feed. Follow us @5M4B on Twitter.