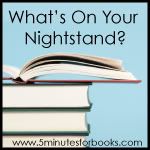 It's not too late to join our Mother's Day Giveaway. That main post links to all the reviews. Check it out!
What's on Your Nightstand is our most popular event each month, and we are so happy to host all of you booklovers here on the last Tuesday of every month. If you're a returning participant, you know the drill.
If this is your first time here — welcome! Be sure to indicate that when you sign up so that we can give you a little extra attention.
This is an opportunity to share a little bit about books that you've just recently read OR to share about what you will be reading this month. Just enter the direct link of your Nightstand post in the Mr. Linky below.
It's a dangerous, dangerous place to hang out, since by reading all of these lists, our to-be-read lists grow and grow and grow, but please take some time and visit around. I mean, you can't go wrong with a little book obsession, can you??
Join in our other Tuesday community events:

May 5: Classics Bookclub — The Great Gatsby (see preview questions HERE)
May 12: Children's Classics — Future Classics (books that will be classics)
May 19: Kids' Picks
May 26: What's on Your Nightstand
June 2: Our FIRST contemporary bookclub selection — Everyone is Beautiful
What's on Your Nightstand? Participants
Powered by… Mister Linky's Magical Widgets.