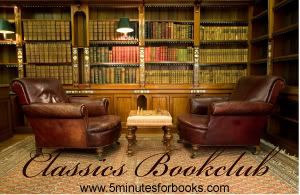 The Roaring Twenties come to life in under 200 pages.
Long-held notions of love come crashing down all around Gatsby.
The eyes of Doctor T. J. Eckleburg watch over everything.
Trying to sum up one of the twentieth-century's most beloved pieces of literature in just ten words isn't as easy as it sounds, as my previous examples clearly attest to. Have you been immersing yourself in the Jazz Age this month? Next week's Classics Bookclub will feature F. Scott Fitzgerald's The Great Gatsby, a book that has come to embody the phrase, "the great American novel."
So, my usual take on book reviews and discussions often revolves around reflections of how the piece made me feel and what my emotional reactions were. But with this book, I can't help but feel obligated to walk the academic discussion path for at least a short while. That being said, I present a few discussion questions that you may incorporate into your own Classics Bookclub post next week, or you may feel free to forge your own way in our collaborative exploration of The Great Gatsby.
What do you think the main characters each represented? Did they seem real to you? Did some seem more real than others?
Talk about ways that Fitzgerald incorporated symbolism in the novel. What symbols carried the greatest weight for you?
Ah… the American Dream. What do those words mean to you? Do you think Gatsby represented this concept, and how?
What makes The Great Gatsby a classic novel? Why has it maintained its place in American literature?
Were there specific quotes or passages that you felt were outstanding? What parts brought out your highlighters or sticky notes, and why?
Let's take a trip back in time together! I look forward to reading your takes on Gatsby, Daisy, Tom, Jordan and Nick.

Come back and link up here at midnight Eastern on Tuesday May 5.
Please remember our new Bookclub schedule:

June 2 — Everyone is Beautiful (linked to my recent review– I'm so thrilled about this book, say you'll join us!)
July 7 — Rebecca by Daphne Du Maurier
August 4 — Contemporary — To be determined
September 1 — Any work by Mark Twain (maybe use the long summer months to do a read-aloud or family read)
October 6 —Contemporary — TBD
November 3 — Classics TBD (probably either any work by Alcott or Counte of Monte Cristo by Dumas — both previously on the schedule)
Dawn's reading and blogging habits have been severely hampered as of late by home improvement projects and the presence of three adorable short people in her life. When she opts to sleep fewer than five hours a night, her random thoughts can be found at my thoughts exactly.