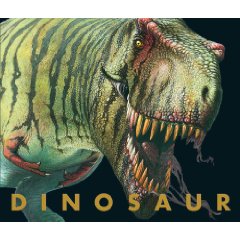 This book stands out.
I — of course — love receiving books, and when I can get away with it, I love giving books too. When the kids are invited to a birthday party, I always ask if there are any books that their friend might like. Even if they aren't booklovers, an outstanding topical book in their area of interest could wow a child on his or her birthday.
DINOSAUR fits firmly in this category. You have to see it to believe the "wow factor." For one, it's a big book, which is always impressive. The dinosaur on the cover is textured, so immediately reading this book is a multi-sensory experience, as you feel the bumpy skin of the T-Rex that snarls out from the cover before you even open the book.
In addition to that, each page offers something special: pages that unfold to reveal interesting charts and diagrams, little books within books to read, and my daughter's favorite — a see-through scene that switches perspective as you turn the page.
The book would be perfect for the older dinosaur-lover (ages 8 and up). There is so much information here, that I think that even a dinosaur fanatic would learn something new. If not, he or she would at least be captivated by the bright pictures and creative presentation of ideas.
The letter found (in a real envelope) inside the cover of the book informs the reader that Henry Gideon, professor of paleontology at Tilgate University, is retiring and leaving his notebook to his colleague Dr. Brown. The notebook — this book — contains all the notes collected from his life's work of dinosaur hunting, so that Dr. Brown can continue his quest.
With an intriguing invitation like that, a child can't help but delve in to discover these secrets for himself.
The awesome interactive page at Hachette books gives you a great sneak-peek at this amazing book. You and your little dino hunter should check out the information and activities.
We are giving away five copies (U.S. shipping addresses only, please) of DINOSAUR.
One Grand Prize winner will receive a copy of DINOSAUR, plus five additional young reader's titles from the Little, Brown bookshelf including: Tumtum & Nutmeg, Rumblewick's Diary, The Mousehunter, Daniel X (which I reviewed here), and Ignatius Mcfarland: Frequenaut.
Four other winners will receive a copy of DINOSAUR.
If you'd like to win (U.S. residents only), please leave a comment. We'll close the contest on April 28, and announce the winners on April 29.
Managing Editor Jennifer Donovan also blogs at Snapshot about life with her tween daughter and preschool son.