We always feature giveaways on Wednesdays here, and there's always a giveaway attached to our Monday column at 5 Minutes for Mom, but we also have some really special contests coming up that I wanted to be sure you didn't miss.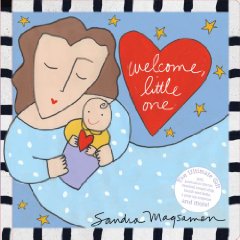 Today at 5 Minutes for Mom, you can enter to win a contest featuring Sandra Magsaman's delightful keepsake book Welcome, Little One. There are 4 winners, and one grand prize winner who will take home a package worth $149. Leave a comment on that post to enter to win.
Later today a book review will go up here with a grand prize worth $88.
Daily giveaways will start posting on April 15 for our Mother's Day Giveaway event.
Share the Magic of Harry Potter with our "win one and give one" contest this month.
We'll cap it all off with our participation in the Bloggy Giveaway Carnival on May 4. We hope to offer a giant giveaway of at least $100 worth of books like we did earlier this year for that event.
Stick with us all through April, because just like those tulips that are trying to peek through the earth here in Connecticut, our contests are bursting forth.


Buy Christian Baby Clothing at Faithbaby — only the best for your little blessings. Read Erica's review and enter to win at 5 Minutes for Giveaways before 4/10.