For the month of November, Mailbox Monday has moved over to Knitting and Sundries. I hope you enjoy the weekly peek at what our staff has received. For more, be sure to check out the linky at Knitting and Sundries.
DAWN
Picture books have been appearing on my doorstep every day this week, and the kids are reading even more than ever!
ZooBorns and Zooborns!: Zoo Babies From Around the World by Andrew Bleiman and Chris Eastland — The covers alone made me squeal with joy, and the pages within only hold more achingly adorable pictures and stories of baby animals from zoos worldwide.
The Night Before Christmas by Clement C. Moore, illustrated by Robert Ingpen — I know this one will get heavy rotation this holiday season for its classic rhyme and gorgeous illustrations.
The Cybils nominee books are coming in full force, and among this week's deliveries:
JENNIFER
I received a couple of random books: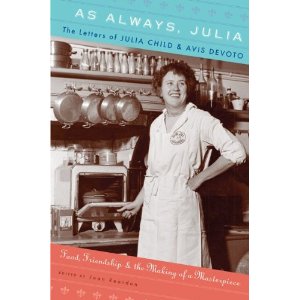 As Always, Julia: The Letters of Julia Child and Avis DeVoto — I had to accept this from Amazon Vine, seeing as how I absolutely fell in love with Julia Child last year through her memoir and the Julie and Julia movie (linked to my review).
A book I can't wait to explore with Kyle (6) — an easy chapter book by Doreen Cronin that doesn't release until March: The Trouble with Chickens: A J.J. Tully Mystery
And like Dawn, I'm also knee-deep in my Cybils nominees review copies which have been rolling in this week (with more to come!):
NANCY
If I Could Keep You Little by Marianne Richmond is a sweet picture book about a mom caught between wanting to keep her child little and wanting her to grow up. It reminds me of Guess How Much I Love You, one of my favorite bedtime books.