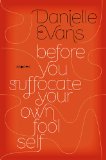 In 2007, Danielle Evans had a short story published in The Paris Review, marking a great honor for a writer in her early twenties. That story, "Virgins," is included with seven others in her new book, Before You Suffocate Your Own Fool Self, and they all are worthy of high praise.
This is the kind of writing that I like best- fresh and solid, with convincing voices that draw me in within the first few lines. This collection of short stories showcases Evans' talent at creating original characters that come alive in the reader's mind, and over the course of eight stories, there are recurring themes, often of young people on the edge of some type of self-discovery, yet each story retains its uniqueness.
The modern settings are wholly believable, and the stories themselves depict realistic experiences that are often uncomfortable, but written with an aliveness and complexities that make it impossible to turn away. The characters embody life experiences today for some people, from adolescents on the verge of adulthood taking risks that made this thirty-five year old mom cringe, to grown children struggling to develop a comfortable and functional relationship with a parent who isn't always reliable.
With Before You Suffocate Your Own Fool Self as a debut release, I hope to see much, much more from Evans in the future!
Dawn's own short stories, featuring the always entertaining characters of three wacky kids, appear on her blog, my thoughts exactly.