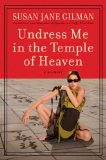 Given the title of the book, you probably wonder what in the world it could be about. The title does come from a line that a fellow tourist uses on her, and since this book is written about a trip the author took in 1986 immediately after graduating from college, there is some other talk about such matters, as well as some typical college language. I don't think that either of these detract from her story.
Undress Me in the Temple of Heaven is Susan Jane Gilman's story about her intent to take a year to travel the world with another friend from school. The bulk of this story takes place in China. And it's fascinating.
I love to travel. I love to experience new things and new people — new sights and sounds and flavors. I love the semi-anonymity that occurs when I step outside my everyday life, and what that inevitably reveals about who I am.
"(Gunter's) German accent was so heavy it was a parody. You hear smell the beer and mustard in it, the bratwurst and pretzel salt" (page 26). "An accent is a form of public nudity. Listening to Jonnie, I felt a strange mixture of bemusement and protectiveness. But soon enough in China others would feel this for me (page 41)." Ms. Gilman's observations are spot on, and are shared with humor and honesty (of a more seasoned woman looking back on her experiences as a twenty-something).
The scene she paints of visiting a friend's poor home in China and the hospitality that they offered reminded me of my own trip to the Dominican Republic with Compassion Bloggers and the incredible hospitality that they showed us.
On this trip, Susie and her friend Claire wanted to really experience the culture, not travel like "pampered princesses." They were able to experience parts of China that others never would. In addition to visiting their friend's home, they had a harrowing experience in a poor rural Chinese hospital.
About halfway through this book, the travel anecdotes give way to something else. You can read reviews at Amazon if you want to find out, but I am glad that part crept on me. I like to be surprised. This last element built suspense, so I zipped even faster through the last half of the book wondering what was going to happen.
If you enjoy travel memoirs, recently made oh-so-popular by Elizabeth Gilbert's Eat, Pray, Love, if you've been to China or are curious about the country, and/or you're a child of the 80's like me (since there are references to the music and culture of that time throughout), I think you'd enjoy this book.
Undress Me in the Temple of Heaven is one of Amazon's "Best of the Month" for March (a designation that I had not ever noticed before). Apparently they offer 40% off such books all month, so I'm going to check out future picks as well.
But if you were thinking of buying this book, it makes now a good time to do so.

When Jennifer Donovan can't travel, she can at least experience the world through her other love of reading. She occasionally writes about travel (in nearby New York City and faraway desert islands) on her blog Snapshot.