Aster Flynn is not Just Another Girl. This girl's got a tough life. A life no normal 17 year old would dream of. While other girls are enjoying summer vacation by hanging out at the pool and flirting with cute boys, Aster is stuck caring for Lily, her 15 year old mentally handicapped sister. It's a job no one wants. Not Aster's mother or her long-gone father, and least of all her self-absorbed older sister Rose.
Taking care of Lily is much more than a summer job. It's been practically a full-time vocation for as long as Aster can remember. She has no real friends, no social life, and no hopes for the future…just Lily.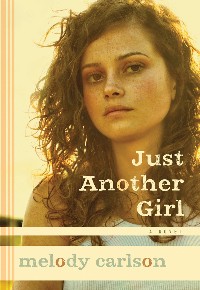 All that starts to change when one of the most popular guys in town miraculously asks Aster out on her first date. With a lot of finagling, Aster is able to make the date happen and perhaps begin a normal life. But does she want a normal life?
I became a fan of Carlson when I read The Samantha McGregor series, which I reviewed here. After reading Just Another Girl, I like Carlson even more. She confronts the hardships of having a mentally handicapped child in the home. As Lily's primary caretaker, Aster is much more responsible than anyone else in her family. It's a burden too heavy for a 17 year old to bear, and Carlson deftly balances Aster's resentment for being put into this position with her guilt for for feeling that way.
Carlson has produced yet another quality work for youth, that adults might find enjoyable as well. I did.
Melissa has been captivated by books for as long as she can remember. She resides in Virginia and at Breath of Life.