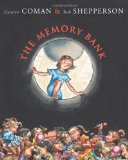 When opening to the first pages of Carolyn Coman and Rob Shepperson's new middle grade novel, The Memory Bank, the tone is immediately set as readers are met with the pencil and ink drawings that begin the story of Hope and Honey, devoted sisters alone in a tiny barren bedroom. The first lines of text confirm their need for each other with the lines:
Hope and Honey Scroggins were the closest of sisters, had been right from the start. Truly, they were lucky to love each others so!
Not so lucky when it came to their parents, though.
Mr. and Mrs. Scroggins were simply awful people."
What follows in the subsequent pages is the wondrously imaginative story of Hope's quest to find Honey after her parents abandon her on the side of the road, for breaking the "no laughing" rule of all things. Her parents may tell Hope to forget about her, but Hope's memories- and love- are much too strong for that to be an option. After receiving a letter from the World Wide Memory Bank, she is soon swept into a world where memories and dreams are kept organized in one central place, run by people with their own unique pasts. Here she discovers the power of dreams and memories, and hangs onto the hope that these will be the keys to finding Honey again.
While Hope's story is told in engaging narrative full of beautiful language (both established, as well as with words created just for this imaginative environment) and in illustrations, it is Honey's experiences that are expressed only in images. Readers will be compelled to linger on these sketches, noting the small details that contribute to the plot.
My ten year old son and I read, and viewed, this captivating story together, and I found it to be even more beautiful when read aloud. The mysteries and secrets were fun to discuss together, offering our ideas for what would come next to each other, extending the reading experience beyond just the words and pictures. I would highly recommend The Memory Bank for readers of all ages, especially perfect for shared reading!
Dawn is a huge advocate for reading with children, even those big enough to read novels on their own. Her own bibliophile kids are key players on her blog, my thoughts exactly.