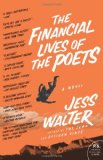 The Financial Lives of the Poets is an interesting novel: urbane, smart, funny, quirky yet realistic (realistic if you are urbane and edgy, which is not my reality, but nonetheless it would be true-to-life for some).
Matt Prior is experiencing the economic downturn first hand. He was downsized from a newspaper where he did financial reporting, then the business that he tried to start on his own folded (a website where he would report on financial news in verse form). He was sucked into a bad renegotiation of his home loan, and now he's fallen so far behind that he's about to lose his house. His wife doesn't know, and she also doesn't know that he's been monitoring her flirtatious chats with an old high school flame on Facebook.
The novel is written in first-person from Matt Prior's point of view, and because of his self-deprecating style, I loved him and laughed along with him, even as I cringed at his some of his choices. I'm not spoiling much (and giving you a heads-up about a potentially sticky subject matter) when I say that after meeting some young men at an all-night drug store, he ends up buying pot from them and then ends up selling it.
Because everything goes just a bit further than most people's reality goes, the observations about our current society come out as slightly satirical, or at least that's how this reader chose to interpret them.
If this review makes you chuckle and shake your head and wonder how a writer could pull this together into a sympathetic relatable story, then leave a comment below, and you could win your own copy.
We have two copies to give away (U.S. shipping only). We'll announce the winner on 10/27.The giveaway is closed.
Check out our current giveaways, subscribe to our feed, and/or follow us @5M4B on Twitter.

Jennifer isn't sure she'd describe herself as urbane or hip, but she did enjoy this book. Read about other things she likes at Snapshot.