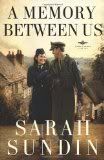 Several months ago, I reviewed A Distant Melody, the first book in Sarah Sundin's Wings of Glory series. I enjoyed this book, so I was glad to accept a review copy of A Memory Between Us
, the second book in the series. Like the first book, this story is set during World War II, and the author's research lends support and credibility to the story. However, the novel is much more than historical facts and warfare tidbits. It is a tale of love, forgiveness, and redemption, and I enjoyed it from cover to cover.
A Memory Between Us
, is the story of Ruth Doherty and Jack Novak. When pilot Jack Novak is injured, nurse Ruth Doherty cares for him in the hospital. Although attracted to the beautiful nurse, Jack quickly realizes that Ruth Doherty forms relationships with no one, especially the soldiers in her care. He is able, however, to form a tentative friendship with her, and their relationship slowly grows. Unfortunately, the scars from Ruth's past and Jack's pride threaten to destroy their friendship and hinder any deepening of their relationship. Both Jack and Ruth must learn to trust in God before they can develop any fulfilling relationships with each other or their fellow servicemen and women.
A Memory Between Us
is a fictional tale, but it is so relatable to everyone. All of us have made mistakes we deeply regret and have endured times when we relied on our own feeble strength instead of relying on God. I found this story to be heartwarming and uplifting, and I recommend it to all of you.
To celebrate this wonderful story, author Sarah Sundin is giving one lucky winner A Movie and Memory Prize Package! One grand prize winner will receive:
* Make-your-own-photo book from Mypublisher.com (Capture your own Memories)
* Netflix Subscription (New or Nostalgic Movies delivered right to your house)
* Starbucks gift card (To keep your engine revvin')
*Gourmet chocolate (A favorite in the 1940's and now)
* British specialty teas in carved wooden box (Timeless tradition)
* Miniature model of a B-17 Flying Fortress bomber & C-47 cargo plane (Everyone needs a few toy planes)
*Big Band music CD (Break out your dancing shoes)
* WWII authentic poster playing cards (Cards – a perfect game for two)
* Keep Calm and Carry On (Uplifting sayings WWII, a boost for troubled times)
To enter simple click on the icons below (contest runs 9/27 – 10/17!)
Lauren is a wife, mother of two, and an avid reader. She thanks Litfuse Publishing for providing the review copy of this book. Lauren blogs at Baseballs and Bows.