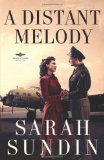 Allie Miller is an average-looking young lady with a beautiful heart. Unfortunately, Allie has never measured up in the eyes of her beauty queen mother. Allie so desires her mother's approval that she will do anything to gain it, including marrying a man she doesn't love. While attending the wedding of a friend, however, Allie meets Lt. Walter Novak, a WWII soldier visiting home before heading overseas. The two begin corresponding by letter, and their relationship changes both of their lives.
A Distant Melody
is a heartwarming WWII story. Although parts of the story are predictable, the novel includes twists and turns that held my interest and kept me turning the pages. Author Sarah Sundin masterfully weaves together humor, heartache, and history to create a compelling first novel. I truly liked Allie and Walter: I wanted them to succeed, not just in finding love, but in being true to themselves and in their relationships with God.
I am a fan of historical fiction, so I especially enjoyed the differing viewpoints this story provided. Through Allie, readers see what it was like to live in the States during WWII with worried families, rationing, and young women volunteering and entering the workforce. Through Walter, readers see the fear and danger faced by a B-17 fighter pilot, as well as the loneliness and longing for home. If you are a fan of WWII fiction, A Distant Melody
is a wonderful book.
To celebrate the release of this novel, Litfuse Publishing is offering a wonderful prize package in the "Netflix and Nostalgia Giveaway." The package includes:
*A 6 month NETFLIX® subscription
*$25 Starbucks® gift card
*A box of See's Famous Old Time Chocolates®
*A jar of homemade strawberry jam
*A Big Band music CD
*A Mini B-17 Model airplane
*Vintage stationery and pen
*British specialty tea
*WWII style playing cards
For more information about this contest, click on the button below. To read more reviews of A Distant Melody
, check out the blog tour HERE.
Lauren is a wife, a mother of two, an avid reader. She blogs at Baseballs and Bows. Thanks to Litfuse Publishing for the review copy of the book.