I distinctly remember the first time I saw Disney's Beauty and the Beast
. It was my senior year of high school, and I sat mesmerized as Belle and the Beast danced around the ballroom floor. Although I was never the princess type, the story was wonderfully told, and the animation was spellbinding. (Did you know it was the first of only two animated films that have been nominated for the Academy Award for Best Picture? The other is UP.) In the years since I first saw Beauty and the Beast
, I have become a Disney fanatic, and I now have a daughter who owns as many Disney princess items as she can find. And although I am still not the princess-y type, I do have a special fondness for Belle. I mean, she's smart, kind, and she loves books! What's not to love?
Unfortunately, Beauty and the Beast
has been in the Disney vault since 2003, so my daughter has no copy of her own. This is the year, however, for Belle and the Beast to come out of the vault, and I was able to snag a copy of the DVD just in time for my daughter's birthday! Additionally, Disney is releasing some new merchandise to celebrate, and I am excited to share two of these items with you.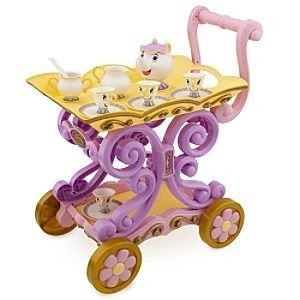 My daughter loves to host tea parties, and Belle's Enchanted Tea Cart and Tea Set
are sure to make her smile (Shhh! She's getting this for Christmas.) The ornate rolling cart, is eye-catching and sturdy. The tea pot is Mrs. Potts herself, and the four cups are adorable reproductions of Chip. The set also includes four saucers and containers for cream and sugar. This item is sure to delight young Beauty and the Beast fans!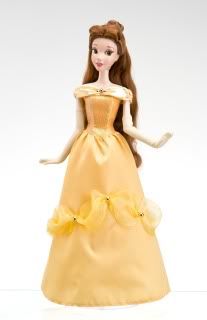 The second item is the newly designed Singing Belle Doll. This beautiful doll will be released on November 1, 2010. Belle sings portions of "Something There" when two small buttons on her hand are pressed. She also has movable arms and gorgeous curls (the envy of every straight-haired girl like myself). If you have a daughter, granddaughter, niece or any other young girl who loves Belle, this doll would make a wonderful gift. It is lovely enough to be a collectible, but sturdy enough to be played with as well. Like the tea cart, I am saving this doll for a Christmas present, and I know my little princess will be thrilled!
I am especially excited to announce that the Disney Store has provided a Belle's Enchanted Tea Cart and a Singing Belle Doll for one of our readers (together they are a $60 value). Please leave a comment and tell us your favorite Disney movie. Book-loving Belle and her Beast will always rank near the top of my list, but I have other favorites as well. I would love to hear yours! We will announce the winner on October 27th.
This giveaway is now closed.
Check out our current giveaways, subscribe to our feed, and/or follow us @5M4B on Twitter.
Lauren is a wife, mother of two, and an avid reader. She is a Disney fanatic, and her family visits Disney World at least once a year. Lauren thanks the Disney Store for providing the items in this review. Read more about Lauren's Disney obsession at her blog, Baseballs and Bows.