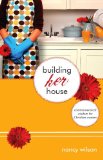 Nancy Wilson is one of my favorite authors for Christian women today so you can hardly expect this review to be unbiased. But let me tell you why what I think she has to say is important, relevant, and why I think you'll like it.
Building Her House: Commonsensical Wisdom for Christian Women
is a compilation of articles/essays that originally appeared in Credenda Agenda, which is published by Canon Press. Nancy's husband is Doug Wilson of varying fame. Her son is N.D. Wilson, author of Leepike Ridge
(see my review of Leepike Ridge here) and 100 Cupboards
. Not only is this family comprised of prolific writers but they are decently good when it comes to public speaking as well. Never have I heard a more entertaining, well-thought out individual as Doug Wilson. I do admire the man. But the woman behind the man is equally worthy of some attention and this book offers a good taste of what she stands for and believes in.
This is "just another book about homemaking" while at the same time it is not that at all. It is written by a woman whose home I have personally visited. (I was in a crowd of college students at the time – she wouldn't have known I was there personally.) I tasted and relaxed in her hospitality. I watched her, over the course of some months, live out this book. So I know she's writing about something that she knows and puts into practice.
I also know her to be a "modern woman" in believing that women should be well-educated, should seek to be beautiful (AND modest!), have a sense of humor, be willing to be in the public eye (and be successful when she is!), gracious and kind, and have good common sense. This book encourages women to be all of that and then some. Godliness to Nancy Wilson does not mean that you will or will not home school. It does not mean that you will or will not have a family dinner every night of the week. (She does encourage a family Sabbath meal which is something I have longed to put into practice since starting my own family and haven't done yet.) In short, she doesn't demand perfection and in fact, argues against it. At one point in this book she mentions that her husband has frequent said that "God is perfect; He is not a perfectionist." She notes that it is true that the sun always sets and always rises but it does so at different times. The tide comes in and goes out at different times. Spring sometimes comes early and sometimes is late. With this explanation, she encourages her reader to provide stability in the home and, dare I say?, predictability – however she also encourages people to roll with the punches that each individual day brings. Plus, she sometimes uses the word "stupid" to describe things. I just like that.
This book hits on a variety of topics all centered around the concept of home. She talks about how to be a good wife, mother, cheerleader, bread maker, mother-in-law, daughter-in-law, astute and well-thought out virtuous woman. All the while she notes that we're all different and we all have good ideas about The Way Things Should Be. She argues that we should hold back our critical tongues which would want to tear one another to pieces and instead encourage one another and build each other up so that we can each experience the best home life possible. I have no objections whatsoever with this book. I hope you'll consider reading it.
As a side tool, she also gave a series of talks on the topic of life after motherhood entitled Grandmas & Mothers-in-Law: On to the Next Thing. I have a copy of this CD series to give away. If you are interested, visit my site, Reading to Know, to win this set. It's more of Wilson (and its really cool).
Carrie comes by her book obsession honestly, having descended from a long line of bibliophiles. She blogs about books regularly at Reading to Know.