When PBS began the Curious George series a while ago, I was somewhat dubious. "Can't we just read the books?" I thought.
However, we have been watching it (and my curious little four-year-old monkey Kyle has taken a big interest recently). It's clever. The animation is clean and bright. I am a big fan of the soft background music (that also appears in Nick Jr.'s Little Bear, based on Maurice Sendak's books of the same name). If there's going to be background noise on in the house, I prefer soothing musical backgrounds to the laugh track that I hear on my tween daughter's Disney shows, or the sound of the Smurfs on Boomerang.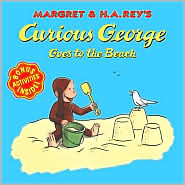 The other thing that I like about these kinds of shows is that it's almost (almost) like they are being read to. The stories are narrated, so they pick up the flow of the written word. Better yet, when we went to the library earlier this week, I suggested that Kyle look at some Curious George books, and we came home with two.
My children do watch TV, probably more than they should. But they do love books as well, and read much more than the average child. I think that we can take advantage of quality literature being brought to the big and the small screen. It might serve as a gateway to a new book or author, or for more reluctant children, a gateway to reading in general.
You might assume Managing Editor Jennifer is a book snob, but as you'll see, she's also fits in a good bit of screen time as well (TV, DVDs and the computer). She's blogs at Snapshot, and is a contributing editor at 5 Minutes for Mom, where she also authors the 5 Minutes for Books column.