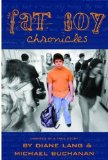 As adults, we are well aware of the health implications of being overweight, and unfortunately, these problems are being experienced by more children and young adults than ever. Perhaps as equally damaging are the mental health effects felt by young people whose obesity becomes the target for ridicule and shame. The Fat Boy Chronicles is a fictionalized account of an overweight teenager, inspired by real life and written by two high school teachers, Diane Lang and Michael Buchanan. It certainly packs a punch in depicting the anguish that can be experienced by ostracization and torment.
When Jimmy starts high school in a new neighborhood school, he hopes that his middle school memories of being pegged "Not-So-Slim-Jimmy" will be just memories, but unfortunately his weight continues to attract constant teasing, or more appropriately labeled abuse, by his peers. At the beginning of the year, his new English teacher assigns a journal and it is in this format that we are witness to Jimmy's freshman year, complete with his insights on the inner workings of the social hierarchy of high school written in a voice that demonstrates a remarkably reflective nature.
Family, church and youth group provide the only sanctuaries where Jimmy feels safe, but these are also the places where he often finds comfort with food, and descriptions of his eating habits make up much of his journal entries. A regular checkup with his doctor provides an image in Jimmy's mind of a future that he doesn't want to see come true, and he makes up his mind to bring about some change. His determination and tenacity are among his many respectable qualities– Jimmy is an honest, intelligent and overall great kid.
Throughout his school-year long journal, Jimmy records his experiences and perspectives in an engaging tone, causing readers to empathize with him and encourage his strength. In addition to the newly released book through Sleeping Bear Press, The Fat Boy Chronicles will also be coming out as a movie in the near future, as described on the official site.
The publisher is graciously offering three copies of The Fat Boy Chronicles for giveaway. Please leave a comment to be entered, US residents only, and we'll announce the winners on July 28th.
The winner of the Bugs & Insects giveaway is #24 – Dena
Dawn could stand to be inspired by a book like this, but her Fat Mom Chronicles takes the form of her blog, my thoughts exactly.