Life is tough for Savannah "Savvy" Smith. The 15-year old and her family have moved from Seattle to London. Savvy's left behind her friends, family, and an opportunity to work on the school newspaper. With no friends at Wexburg Academy, she's a fish out of water. And is that really English the kids are speaking?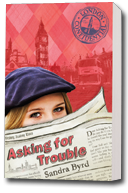 After failed attempts in the science and art club, Savvy hopes to break into the Wexburg Times clique by misrepresenting her writing experience. As the title of Sandra Byrd's newest teen fiction book states, Savvy is Asking for Trouble.
Savvy tries to plead her case, but the cute Editor, Jack, isn't sure that her American sense of humor and style will reach the students at Wexburg. A chance to write an anonymous column just might give Savvy the popularity she's coveted.
Or will it?
Asking for Trouble is the first book in Byrd's new London Confidential series. I think this will be a great series for tweens and younger teens. Savvy is wrestling with some pretty tough issues. Feeling forgotten by her friends back home, trying to fit into a new culture, struggling in her relationship with God, and fighting temptation (and losing) to portray herself as someone she's not. Many readers will relate to Savvy and the difficulties she faces, even if they've never left their hometown.
I'm looking forward to reading the next installment in the series to see how Savvy continues to adjust to her new life.
Thanks to Tyndale House for allowing me to read this fun book.
Melissa has been captivated by books for as long as she can remember. She resides in Virginia and blogs at Breath of Life.