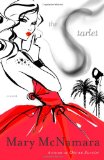 As an average suburban mom, Hollywood is as foreign a land to me as is the Sahara Desert. Sure, I watch its movies here and there (the theater being quite a treat for an average mom!), and yes, I hear celebrity gossip from time to time, but I'm not a TMZ or Perez Hilton follower by any means. With a good measure of skepticism, I began Mary McNamara's new novel, The Starlet, wondering if its focus on characters enmeshed in Hollywood's foreign culture would appeal to me. Two days later, the answer was quite clear, and what a fun time it was!
While indulging in a rare vacation in Italy, Juliette Greyson happens to be in the wrong place at the most definitely wrong time. In her public relations role in the hotel business, Juliette lives her life among the Hollywood elite, and she knows everything there is to know about image, secrecy and 'the business.' So when she sees immediate danger for Mercy Talbot, Hollywood's young starlet, both loved and reviled for her talent and her incredibly messed up personal life, she knows she must intervene. Immediate danger, of course, cannot be anything as simple as a car accident, but takes the form of a completely strung-out Mercy about to leap off a perilously high statue in the heart of Florence. Following on the footsteps of the recent (supposed) overdose of her costar, Mercy is derailing big time. With a history that reads like a combination of several of today's real-life young Hollywood stars, Mercy's character is sadly realistic, and yet surprisingly engaging.
Other appropriate figures in the novel include Mercy's mother/manager whose behavior is undeniably deplorable, an aging male star whose bravado is a great cover for his growing insecurity, and the owner of a rehab center whose self-proclaimed guru status is questionable on many fronts. Running parallel to this plot line, is one steeped in Juliette Greyson's past, the family ties that bond her to Italy and the heavy reasons why she has spent years resisting this pull.
Snappy writing and contemporary pop culture references abound in this novel, making it a fun read to escape into on a long, hot afternoon. While a multitude of self-destructive behaviors are portrayed, which adds to the realism of the novel, I still found myself empathizing with its characters, as well as finding even more gratitude for my status as an average suburban mom!
Perhaps best described as a "guilty pleasure," The Starlet offers witty dialogue, a series of intertwined mysteries, a glimpse into the crazy world of Hollywood, and a cast of characters representing a wide swath of the entertainment business.