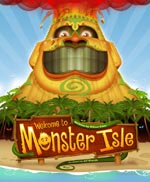 If you are ever looking for some books that are a little out of the ordinary, you might want to take a peek at Immedium publishers. Oh trust me. You'll begin to know them when you see them because of their cartoon-like illustrations.
Recently they sent me a few of their titles to check out and I really think that they are so original that I wanted to pass along a couple of the titles to you, so at the very least you can be informed about them. Starting with Welcome to Monster Isle
we find a family of tourist who are marooned on an unknown island. Turns out it's Monster Island and I think it's safe to say that the family members are a little freaked out. But what they don't realize is that the monsters are actually more scared of them. Of course, I kind of think that the people have good reason to be frightened because the monsters are a bit creepy. I confess, I did not read this book to my oldest child because I wasn't sure how he would take to it. I figured I'd rather not risk him walking away with a fear of monsters. (We haven't actually used the word "monster" in our house yet. We call things creatures and this seems to have effectively avoided the 'monster-under-my-bed' fear.) However, if I had decided to read it to my son he would have realized that in the end everything works out quite nicely. Nothing truly scary. You just have to get to the end to find that out!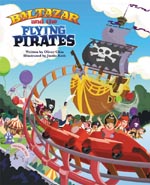 Baltazar and the Flying Pirates
was a little more our regular speed. Baltazar loves hearing tall tales of pirates (are stories of pirates referred to as 'tall tales'?) from his grandfather. Imagine his delight when he discovers that he is a decendent of a pirate and is being called upon to search for treasure!? This book is written by Oliver Chin and illustrated by Justin Roth in a very appealing way. This title, in particular, really looks like it is animated and you can visualize the characters coming to life. Fantastic story and hilarious illustrations. Definitely more our speed.
But the crowning work by Immedium, in our humble estimation, is Sid the Squid: and the Search for the Perfect Job
.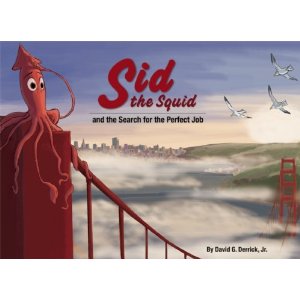 Sid is looking for a good job in the city. His arms are both a blessing and a curse and he is having a frightful time trying to find a job that is just right for him. Eventually he meets with success though.
A whole book with pictures and illustrations of a squid?! Be still our little three year old hearts! Awesome book title. Loved it thoroughly.
Like I said, Immedium does have a unique style all their own. Very curious and engaging. If you've never sought them out before, you might want to give them a look-see.
Carrie finds such picture books intriguing at times. Her son finds squid books intriguing at all times and so she occasionally indulges him and blogs about squids and various other ocean creatures at book blog, Reading to Know.