I like Roger Priddy books for kids. I love the way these books feature bold, clear photographs, as it makes it easy for young children to learn to name and identify things with clarity and ease. When my two year old was born, I had Priddy's Happy Baby Series on hand and at six months old he would focus throughout an entire reading of the Alphabet book in particular.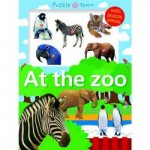 Now my son is two and we're still using that alphabet book to learn our letters. Fabulous tool. We're also working on learning how to do a puzzle so I was super excited to see that Priddy Books have introduced a few Puzzle Town books. Each book is quite sturdy, providing knobbed puzzle pieces which you can then set within the pages of the book itself. Currently they have two titles, At the Zoo and On the Building Site. Great fun!
Another newer release by Priddy Books are the Bright Baby Touch, Feel and Listen books. Admittedly, these books are a little on the loud side. They provide buttons for the child to push which produce sounds made by the various animals. Hit the puppy button and you hear the dog bark, etc. However, the noise is what makes these books so incredibly popular with the little ones, as you can imagine! I bring this book out when I need a.) a break from parenting for a minute b.) a distraction and/or c.) as a special treat. These books are awesome for those purposes.
If you STILL haven't checked out Priddy books for your young tots and babies – what are you waiting for? Ha! I'm so glad we're growing up with Priddy books available to us. We learn so much from them.
Carrie comes by her book obsession honestly, having descended from a long line of bibliophiles. She blogs about books regularly at Reading to Know.